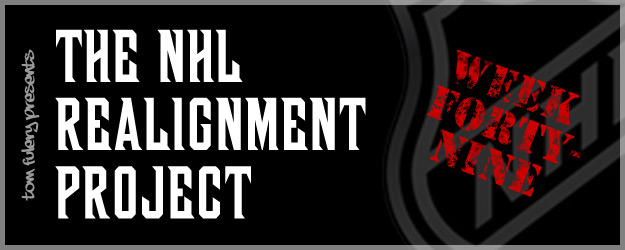 Gary's Dream – With a Little Barbecue Sauce
So, last week we outlined a version of the NHL that could very conceivably be something Gary Bettman could steer the league towards. The biggest caveat of the week was the issues that Markham seems to have run into with their arena plans. If we pull them out of the equation, and limit our relocation/expansion efforts to cities with arenas that have already been approved or have  been built, we end up with a slightly tweaked version of Gary's dream (granted, to the league it would be a nightmare, because they would certainly not be as able to milk nearly as much out of expansion fees without the richest city in Canada).
The Sprint Center in Kansas City, the New Colisée in Quebec City, and the not-yet-named arena in Seattle are the sites of our expansion/relocation efforts in this installment.
Like last week, let's make the assumption that from the short-lived realignment that the league proposed last year, the commish is interested in four conferences… which in turn, reflect and reinforce the idea of a 32-team league to even up the conferences at 8 teams each. And again, the proposed playoff format will piss off a ton of fans (and make another ton very happy somehow), but the trade off of having a more fair travel load across the league and the maintaining of most of the major rivalries in the league, might be worth it.
Besides, I'm willing to bet right now that most fans would be more than fine with a realignment and a re-working of the playoff format if it meant we got to watch some damn hockey again.
The Map:
The Breakdown:
This week's re-imagined league brings back the NHL's four-conference breakdown proposed last year (links provided for concept names/logos).
GRETZKY CONFERENCE
Anaheim Ducks
Calgary Flames
Colorado Avalanche
Edmonton Oilers
Los Angeles Kings
San Jose Sharks
Seattle Metros
Vancouver Canucks
HOWE CONFERENCE
Chicago Blackhawks
Columbus Blue Jackets
Detroit Red Wings
New Jersey Devils
New York Islanders
New York Rangers
Philadelphia Flyers
Pittsburgh Penguins
ORR CONFERENCE
Boston Bruins
Buffalo Sabres
Minnesota Wild
Montreal Canadiens
Ottawa Senators
Quebec Tempest
Toronto Maple Leafs
Winnipeg Jets
HULL CONFERENCE
Carolina Hurricanes
Dallas Stars
Florida Panthers
Kansas City Scouts
Nashville Predators
St. Louis Blues
Tampa Bay Lightning
Washington Capitals
Gained teams:
Seattle, Kansas City, Quebec City
The Benefits:
• Rivalries — I tried my best to keep most of the major rivalries together. The more obvious ones are all here, of course, but even the "secondary" ones like the Sabres and the Leafs have been maintained where possible. Some of the Hull Conference teams could evolve into good rivalries too, like Dallas and Nashville and obviously Kansas City and St. Louis. And to all you who constantly complain that the PHI/NYR rivalry is more important than the PIT/PHI rivalry… once again, the Broadway Blueshirts and the Broad Street Bullies and kept together.
• Travel — Four conferences cut down on travel for the teams that currently have the heaviest burden (mainly Dallas, Winnipeg, Minnesota). Teams with the lightest travel burdens right now add a little more, but are still in much better shape than the frequent-flier champs. All conferences now span two time zones and none span three. Some of the old guard on the east coast won't like this, but fair is fair.
• Heritage — The conferences are named for some of the greats from the history of the game. Only issue with this is having only four will spark countless debate on the choices (Richard, Plante, Kennedy, Bossy, Smith, Lafleur, etc.)
Scheduling:
Each team plays:
– against its seven conference-mates twice at home and twice on the road each:
 4 games x 7 teams = 28 games
– against the teams in the other conferences once at home and once on the road:
2 games x 24 teams = 48 games
– half of each conference pair up for an additional home-and-home series (switch the pairings each season):
2 games x 3 teams = 6 games
28 + 48 + 6 = 82 game season
Playoffs:
• Top four teams from each conference qualify for a "final four" style tournament. All series are best of seven.
• Round 1: Conference Semifinals (1 seed vs. 4 seed; 2 vs. 3  (based on overall record))
• Round 2: Conference Finals (first round winners play each other)
• Round 3: Stanley Cup Semifinals (best overall record of remaining teams picks it's opponent for this round)
• Round 4: Stanley Cup Finals
As always, thanks for reading, and don't forget to use the sharing buttons to spread the word and wish me luck on my impending fatherhood in February.
—Tom