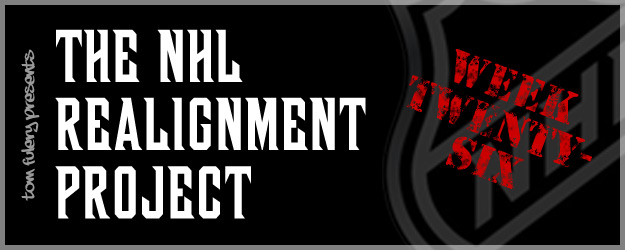 Oh Six (One Last Time)
It's hard to believe, but we're HALF WAY THROUGH our lil' project. Week 26 sees us visit our "Original Six" theme a final time… I promise, next week we'll be going in a different direction again. Similar to last week, we've upped the number of teams in the league to 36 teams. We're breaking the league down into six divisions of six teams each—one of which is made up of all of the Original Six teams.
This week we've changed up the map just a bit. The clustering along the east coast is a little less confusing. The non-original-six NYC-area teams have joined the lower-coast teams (Caps, Canes, and the Florida teams) in a division. Along with that change, the Pennsylvania-duo join the Sabres, Jackets, Sens and Nordiques to round out the Eastern Conference.
The West is pretty clean as is, so we've left it along this week. Let's check out what we've got…
The Map:
The Breakdown:
EASTERN CONFERENCE:
Original Six Division:Â Boston, Chicago, Detroit, Montreal, New York, Toronto
Bossy Division:Â Carolina, Florida, New Jersy, New York Islanders, Tampa Bay, Washington
Lemieux Division:Â Buffalo, Columbus, Ottawa, Philadelphia, Pittsburgh, Quebec
WESTERN CONFERENCE:
Hull Division:Â Dallas, Kansas City, Milwaukee, Minnesota, Nashville, St. Louis
Gretzky Division:Â Calgary, Edmonton, Portland, Seattle, Vancouver, Winnipeg
Dionne Division:Â Anaheim, Colorado, Las Vegas, Los Angeles, Phoenix, San Jose
Gained teams:
Kansas City, Las Vegas, Milwaukee, Quebec, Portland, Seattle
Lost teams:
none
The Benefits:
• Tradition — The Original Six teams gets the recognition they deserve with their own division. Major rivalries such as PIT/PHI,  LAK/SJ, EDM/CGY to name a few have been maintained in-division.
• Travel — Other than Winnipeg (sorry guys), nobody has an in-division rival more than one time-zone over.
• Rivalries —  Even though Winnipeg is kinda screwed on travel, they do get a whole heapin' mess'o rivals to content with. The Alberta teams and Vancouver are all in-division, through in what will sure turn into an awesome rivalry in Seattle/Portland, and the Gretzky division will be amazing. Cali, Colorado and the two desert cities will be great too. Oh, but wait, there will be a great Missouri rivalry… oh and Dallas/Minnesota have history… jeez, there's also the current Southeast Division, but now with the awesome PIT/PHI rivalry… NYI/NJ will intensify… Quebec and Ottawa will heat up too. All awesome rivalry gold — oh and hey, and we haven't even mentioned the original six!
Since this week is very similar to last week, as far as structure goes, I can work out the scheduling too. Here we go…
6 games against five in-divsion opponents = 30 games
2 games against thirty non-division opponents = 60 games
Well that was easy… other than the objection that the player's union will have with 8 extra games on the schedule, we get the benefit of every team playing in every building. The shape that guys are in these days, they can handle 8 more games… plus the extra revenue  generated will find their way into those pockets anyhow. Another plus… MORE HOCKEY. Sold.
Until next Sunday!
— TF