52-Week NHL Realignment Project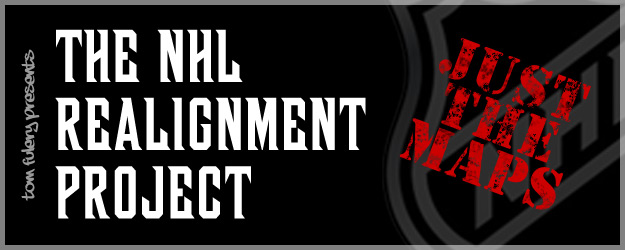 NHL Realignment Maps
As a companion to my NHL Realignment Project, this page will act as a compendium of the maps. For those of you who don't want to wade through my rambling rationales for each realignment, this is the place for you. Just the maps. Click each map to see it larger.
If however you do want to view all the full blog entries in one place… click here to see the entire NHL Realignment Project.
Special thanks to OilersNation.com for the original map used in the first 40ish weeks.
And now for the maps:
Week One: Moving and Shaking (and Expanding) — Read Post »
Week Two: Phoenix to Seattle — Read Post »
Week Three: Damn, that's Cold — Read Post »
Week Four: The Devil You Say! — Read Post »
Week Five: Get Real! — Read Post »
Week Six: Get Real, Take Two! — Read Post »
Week Seven: Bigger is Better — Read Post »
Week Eight: Canadian Madness — Read Post »
Week Nine: Barbecue and Desert — Read Post »
Week Ten: A Long Trip Leads to Rivalry Overdose — Read Post »
Week Eleven: The MLB Map — Read Post »
Week Twelve: The NFL Map — Read Post »
Week Thirteen: There and Back Again — Read Post »
Week Fourteen: The Mother Lode! — Read Post »
Week Fifteen: Triple Threat — Read Post »
Week Sixteen: Champions League (Version 1) — Read Post »
Week Seventeen: Champions League (Version 2) — Read Post »
Week Eighteen: Champions League Plus — Read Post »
Week Nineteen: Champions League (Semi) Final — Read Post »
Week Twenty: Domo Arigato, Mr. Roboto — Read Post »
Week Twenty-One: Pod Casting — Read Post »
Week Twenty-Two: Nationalism — Read Post »
Week Twenty-Three: Nationalism, Expanded — Read Post »
Week Twenty-Four: Oh Six! — Read Post »
Week Twenty-Five: Oh Six (Times Six)! — Read Post »
Week Twenty-Six: Oh Six (One Last Time) — Read Post »
Week Twenty-Seven: Dear, Gary — Read Post »
  Week Twenty-Eight: Gary Christmas! — Read Post »
Week Twenty-Nine: Where do we go from here? — Read Post »
Week Thirty: Seeking 32 (KC, QBC, Hamilton, Portland) — Read Post »
Week Thirty-One: Seeking 32 (Quebec City, Seattle, Houston) — Read Post »
Week Thirty-Two: Seeking 32 (Quebec City, Portland, Kansas City, Houston) — Read Post »
Week Thirty-Three: All the People, All the Time — Read Post »
Week Thirty-Four: So Long, Sunshine and Buckeye States — Read Post »
Week Thirty-Five: Merge and Move — Read Post »
Week Thirty-Six: Getting Vertical, Eh! — Read Post »
Week Thirty-Seven: West, West, West, West, East — Read Post »
Week Thirty-Eight: Something Old, Something New(s) — Read Post »
Week Thirty-Nine: Simply Seattle — Read Post »
Week Forty: Arena Talk — Read Post »
Week Forty-One: Whale of a Tweak — Read Post »
Week Forty-Two: I'm Having Contractions — Read Post »