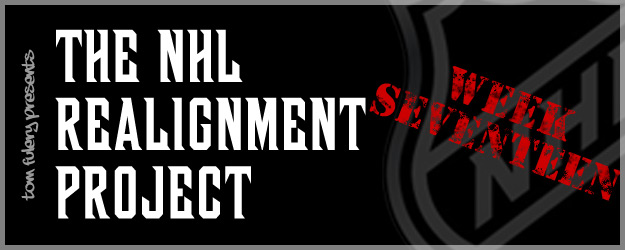 Champions League (Version 2)
As some of you geniuses may have figured out by the title of last week's post, we are doing a variation this week instead of a full-on new idea. Things are super-busy at work right now, and this is the way we're gonna go. Gotta pay the bills… what can you do?
So this week, our league, comprised of only Stanley Cup Winning teams, is divided by a horizontal demarcation line. Orr to the north and Howe to the south. It seems a little more fair than last week's option since there is at least a little less travel discrepancy between the two conferences.
The Breakdown:
Howe Conference:Â Anaheim, Carolina, Chicago, Colorado, Dallas, Detroit, Florida, Philadelphia, Pittsburgh
Orr Conference:Â Boston, Calgary, Edmonton, Montreal, Ottawa, New Jersey, New York Islanders, New York Rangers, Toronto
Gained teams:
None
Lost teams:
Vancouver, San Jose, Los Angeles, Phoenix, Winnipeg, Minnesota, St. Louis, Buffalo, Columbus, Nashville, Florida, Washington
The Benefits:
• Talent — Whoa nelly! My math may be off, but wouldn't cutting 40% of the teams out of the NHL mean we'd be leaving the bottom 40% of the talent out of the league too? It'd be like my fantasy league (speaking of, we're desperate for people to join). Basically we'd have an All-Star Game level of talent, but with checks.
• Amazingly Historical Match-ups in the Stanley Cup Finals (potentially) — Lots of potential for old school finals. Lots and lots of potential for never-before-seen finals matchups. Lots of potential for Canadian teams to be in the finals.
• Tradition — When the league is made up of only teams that have won it all, tradition is pretty much built in (*cough cough* tampadallascarolinaanaheim? *cough*)
Check back next week for a bigger vision of this concept!
— TF