NHL Realignment Project – Week 37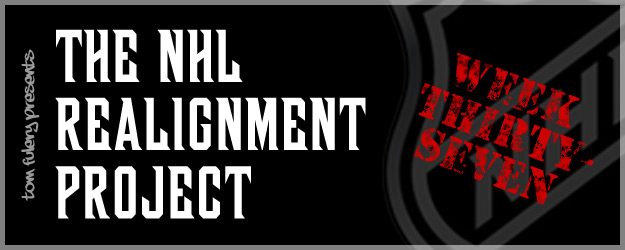 West, west, west, west, east
This week we're adding four new teams to the map west of the Gretzky-Orr line (two via expansion and two via relocation). Just to make sure the eastern side of the map doesn't feel completely neglected we've allowed another relocation to stay within the Orr Conference. The Pacific Northwest has a love of hockey that is untapped and the MLS is showing us that the Vancouver/Seattle/Portland corridor has great fans that love great rivalries with their "neighbors". Houston and KC round out the central part of our map and Quebec gets the team they deserve. I also threw Columbus a bone, and let them keep their team this week. Let's check it out.
The Map: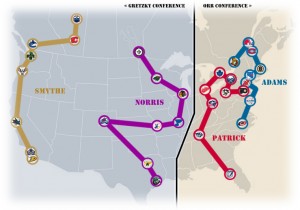 NHL Realignment Map – Week 37
The Breakdown:
We're going with a 2 conferences of 2 divisions each format. Again, we've named the conferences are for Gretzky and Orr while the division names are our old favorites—Patrick, Adams, Norris, and Smythe. Eight teams in each division giving us a total of 32 teams.
The Wayne Douglas Gretzky Conference
Smythe Division
Norris Division
Anaheim Ducks
Chicago Blackhawks
Calgary Flames
Colorado Avalanche
Edmonton Oilers
Dallas Stars
Los Angeles Kings
Houston Aeros
Portland Eagles
Kansas City Scouts
San Jose Sharks
Minnesota Wild
Seattle Totems
St. Louis Blues
Vancouver Canucks
Winnipeg Jets
The Robert Gordon Orr Conference
Patrick Division
Adams Division
Buffalo Sabres
Boston Bruins
Columbus Blue Jackets
Carolina Hurricanes
Detroit Red Wings
Montreal Canadiens
Nashville Predators
New Jersey Devils
Philadelphia Flyers
New York Rangers
Pittsburgh Penguins
Ottawa Senators
Tampa Bay Lightning
Quebec Nordiques
Toronto Maple Leafs
Washington Capitals
Gained Teams:
Seattle, Portland, Kansas City, Houston, Quebec City
Lost Teams:
Miami, Long Island, Phoenix
The Benefits:
• Geography — Like last week, every team has to travel to Canada for divisional games. Every division is stretched vertically (the two easternmost a little less, but still very stretchy), so that is reasonably equal as well. All this means that nobody can whine about "Our travel leaves us at a massive disadvantage".
• Travel — Once again, North-South is the way. Divisional games may necessitate long trips, but again, staying within your time zone or only having to travel one over makes all the difference for player fatigue and for TV ratings.
• Rivalries — Though we lose CHI/DET, we do get TOR/DET… not bad. The NYR/NJD, the Alberta teams, Pennsylvania teams, and BOS/MTL all stay together too, so check that off your list. New teams give us great rivalries too, SEA/POR/VAN, DAL/HOU, KC/STL
• Heritage — C'mon! The division names are awesome. Hockey is special, now the conference and division names reflect that.
Scheduling:
Divisional Games: 3 home & 3 away vs. 7 teams = 42 games
Non-Divisional Games: 1 home & 1 away vs. 24 teams = 48 games
TOTAL = 90 games—yay, more hockey.
Playoffs:
Top three from each division qualify, plus next two best records from the conference (as wildcards).
Division Champs seeded 1 & 2, based on record. All other qualifiers seeded 3-8, based on record (so yes, a wildcard can have a higher seed than a top-three qualifier. This keeps the regular season more interesting and division-focused, as finishing top-three is the first ticket into the playoffs. Wildcard is just a backdoor option to keep things a little fair for 4th and 5th placed teams in a division who is having "a super-stacked-with-awesomeness year".
Once qualification happens (division-centric), other than division champions getting 1 & 2, it's all about your record for seeding (conference-centric). This way we are more likely to avoid a "two-best-teams-meeting-too-early-in-the-playoffs scenario".
(H/T to oilersnation.com for the original map)
Don't forget to share our lil' project with your hockey fan friends. And, as always, thanks for reading. Until next Sunday!
— TF
Make sure to check out the entire NHL Realignment Project ».