NHL Realignment Project – Week 40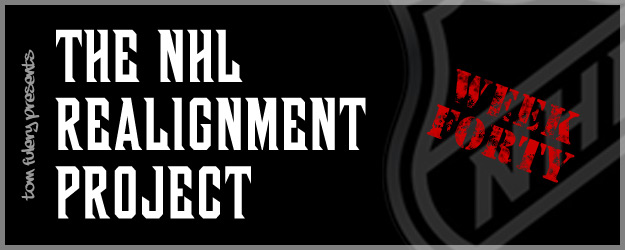 Arena Talk
Crazy deadlines at the real-world job pushed this week's entry to a very late release… but here it is.
With the news of a potential buyer for the Phoenix franchise, it's time we switched focus to arenas—who has them, who soon will and who can't seem to get one built.
Phoenix has a good arena… and maybe with a new owner they can start to spend some money (on marketing, not just players) and people might start showing up to fill that areana (Dallas is going through the same thing now with their new owner Tom Gaglardi). So this week, we're leaving the Coyotes in the desert and look at a few other cities and their arena situations (good and bad).
The good: Kansas City has an NHL-ready arena just sitting there. The city of Seattle seems to be on the brink of getting one in a year or two. Quebec City is finishing up last details for getting a brand spanking new arena started as well.
The bad: One of the biggest issues arena-wise is out on Long Island. With an owner wanting serious concessions/overtures from the good folks of Nassau County before committing to sticking around, let's look at a "not-completely-out-of-the-realm-possibility" scenario that has the Islanders moving outta the market completely.
The preemptive strike: Yes I know there are other arena issues out there, but most are based on financial agreement issues (revenue sharing, lease terms), not on structural issues (bad sight lines, low capacity, no luxury boxes, etc). So we're sticking with the Islanders this week. But I'm sure others fit the mould too.
With three revenue-generating arenas ready or soon to be ready, it's kind of hard to believe Gary when he says that expansion is not  in the NHL's near-future (c'mon, did you think the NHL was going was going to allow the league to stay unbalanced for more than a couple of years with their proposed alignment). Expansion fees are where the money's at for the league… not so much relocation fees. So how do all these pieces fit together? Let's go to the map:
The Map:
The Breakdown:
One relocation plus two expansions equals a 32-team league. Our breakdown this week yields yet another four-conference alignment. Each conference is made up of 8-teams that are reasonably geographically clustered.
Pacific Conference
Anaheim Ducks
Phoenix Coyotes
Calgary Flames
San Jose Sharks
Edmonton Oilers
Seattle Metros*
Los Angeles Kings
Vancouver Canucks
Central Conference
Chicago Blackhawks
Minnesota Wild
Colorado Avalanche
Nashville Predators
Dallas Stars
St. Louis Blues
Kansas City Scouts
Winnipeg Jets
Northeast Conference
Boston Bruins
Montreal Canadiens
Buffalo Sabres
Ottawa Senators
Columbus Blue Jackets
Quebec Tempest*
Detroit Red Wings
Toronto Maple Leafs
Atlantic Conference
Carolina Hurricanes
Philadelphia Flyers
Florida Panthers
Pittsburgh Penguins
New Jersey Devils
Tampa Bay Lightning
New York Rangers
Washington Capitals
*Bonus fun—This week, the new teams in Seattle and Quebec City get there names and logos from concepts put forth in the excellent blog, Icethetics. There is a concept page for the the Seattle Metros and the Quebec Tempest (or Tempête). Thought it would be fun to mix it up and give a shout out to a great blog and some amazing work by some of their readers.
Gained Teams:
Seattle, Quebec City, Kansas City
Lost Teams:
Long Island
The Benefits:
• Geography/Travel — No division is made up of more than two time-zones. No Eastern Time Zone teams are located in the Western half of the breakdown.
• All-inclusive — Every team visits every other team's building. The fact that this hasn't been league policy for so long is a travesty.
• Rivalries —  Other than CHI/DET, all major rivalries are preserved. And as Philly fan and reader of the blog noted this week, many Flyer fans would be more broken up about losing the Rangers and Devils as rivals than the Pens. Many would argue this statement and many would support it… so I made everyone happy and kept all four teams together.
Scheduling:
Conference Games: 2 home & 2 away vs. 7 teams = 28 games
Inter-Conference Games: 1 home & 1 away vs. 24 teams = 48 games
An additional Home-and-Away versus a single opponent in each of the conferences not your own (to rotate through the league every 8 years): 1 home & 1 away vs. 3 teams = 6 games
TOTAL = 82 games
Playoffs:
Top four in each conference qualify. First two rounds determine Conference Champions. Third round is the semi-finals (with the team with the best regular season record choosing his opponent). Fourth round is the Stanley Cup Finals.
Don't forget to share our lil' project with your hockey fan friends. And, as always, thanks for reading. Until next Sunday!
— TF