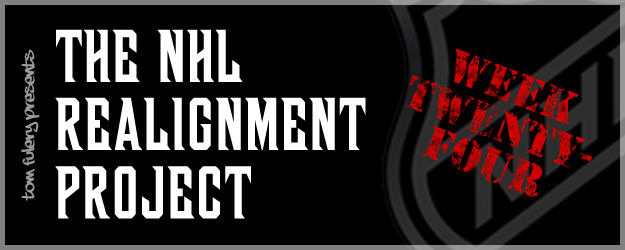 Oh Six!
This week on the NHL Realignment Project we are finally getting around to creating a scenario where the Original Six get their own division. To get this to work out in a more manageable way, we had to do a major contraction of the NHL… down to 24 teams. It was either this or go up to 36 (can you say, "Week 25 foreshadowing?").
So our new 24-team NHL has four conferences… Original Six, Gretzky, Lemieux and Hull. Each conference would qualify four teams for the playoffs, play down to a conference champion… then we would have a "Final Four" league semi-final where the team with the best regular season record of the four left standing would choose its opponent.
The Map:
The Breakdown:
Original Six Conference: Boston, Chicago, Detroit, Montreal, New York, Toronto
Lemieux Conference: Carolina, New Jersey, Philadelphia, Pittsburgh, Tampa Bay, Washington
Hull Conference: Buffalo, Dallas, Minnesota, Ottawa, St. Louis, Winnipeg
Gretzky Conference: Calgary, Colorado, Edmonton, Los Angeles, San Jose, Vancouver
Gained teams:
none
Lost teams:
Anaheim, Columbus, Florida, Nashville, New York Islanders, Phoenix
The Benefits:
• Tradition — The Original Six finally gets the recognition they deserve with their own conference. Major rivalries such as PIT/PHI,  LAK/SJ, EDM/CGY to name a few have been maintained in-conference.
• Travel — Conferences span no more than two time-zones. Eastern and Central Time Zone teams have a minimized slate of games starting super-late because of Pacific Time Zone locations… the same goes for Pacific and Mountain Time Zone teams playing super-early because of Eastern Time Zone locations.
• Talent — Killing off six teams will result in a major uptick in talent level as the surveying teams split the spoils. Ponder and love on this: the term "Top 9 Forward" will come in to use!
Scheduling Notes:
36 outside conference (1 home/1 away vs each of the 18 opponents)
40 in-conference (4 home/4 away vs. each of the 5 opponents)
6 extra games outside conference (1 home/1 away vs 3 teams in another conference… to rotate through all 18 non-conference opponents every 6 six years)
See you next Sunday!
— TF