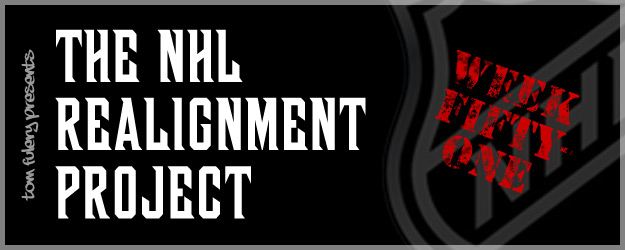 A More Balanced East
Last week's realignment got a little feedback on here and on Twitter that despite my best efforts, a few to many important rivalries got split up. Consider this week's map a tweak of last week's. While of course there is no silver bullet that will please all people and teams (hence this blog's slogan "endless possibilities, no consensus), I think this is the best addressing of rivalries of the entire project thus far. An additional by-product of the tweaks is a more balanced set of teams in the two conferences on the east side of the map. Havalook:
The Map:
The Breakdown:
Once again, this week's re-imagined league continues to use the NHL's four-conference breakdown proposed last year. I've gone with the common names of the Stanley Cup winning teams from Seattle and Quebec—the Metropolitans and Bulldogs respectively. Side note: the Quebec Stanley Cup champs were only informally knowns as the Bulldogs, they were officially the Quebec Hockey Club at the time. I'm not advocating these names, my preference would be to let people from each of the cities vote on names vetted presented by the two franchises… none of that "let the people submit names for voting or using something hip at the time that will seem stupid in a couple of years" crap — I'm looking at you, Toronto RAPTORS! *facepalm* But for the map this week, I just when with the Metropolitans and the Bulldogs.
Again, conference names are an homage to the greatest players (arguably, of course) in the history of the teams of that conference. Gretzky (Oilers and Kings); Howe (Red Wings); Orr (Bruins); Lemieux (Penguins).
GRETZKY CONFERENCE
Anaheim Ducks
Calgary Flames
Colorado Avalanche
Edmonton Oilers
Los Angeles Kings
San Jose Sharks
Seattle Metropolitans
Vancouver Canucks
HOWE CONFERENCE
Chicago Blackhawks
Colorado Avalanche
Dallas Stars
Detroit Red Wings
Minnesota Wild
Nashville Predators
St. Louis Blues
Winnipeg Jets
ORR CONFERENCE
Boston Bruins
Buffalo Sabres
Columbus Blue Jackets
Montreal Canadiens
Ottawa Senators
Quebec Bulldogs
Toronto Maple Leafs
Washington Capitals
LEMIEUX CONFERENCE
Carolina Hurricanes
Florida Panthers
New Jersey Devils
New York Islanders
New York Rangers
Philadelphia Flyers
Pittsburgh Penguins
Tampa Bay Lightning
Gained teams:
Seattle, Quebec City
The Benefits:
• Rivalries — Like I mentioned earlier in this post, with reader inputs I've done my best work so far in keeping most of the major rivalries together. The more obvious ones are all here, of course, but even the "secondary" ones like the Sabres and the Leafs have been maintained where possible. Some of the Howe Conference teams could evolve into good rivalries too, like Dallas and Nashville. And to all you who constantly complain that the PHI/NYR rivalry is more important than the PIT/PHI rivalry—once again, the Broadway Blueshirts and the Broad Street Bullies and kept together. Oh, and Detroit and Colorado are together now… you're welcome.
• Travel — Four conferences cut down on travel for the teams that currently have the heaviest burden (mainly Dallas, Winnipeg, Minnesota). Some of the teams with the light travel burdens right now add a little more (looking at you Lemieux Conference), but are still in much better shape than the  frequent-flier champs out west. The only teams that have to got beyond one additional time zone for any in-conference game are the aforementioned Red Wings and Avalanche… and just to play each other. With that hatred, they won't mind a bit.
• Heritage — The conferences are named for some of the greats from the history of the game. Only issue with this is having only four will spark countless debate on the choices (where are Richard, Kennedy Plante, Hull, Bossy, Smith, Lafleur, etc.)
• Erin Andrews — With both her faves in one conference (The Lightning and the Rangers), we can only expect more tweets, mentions and other additional exposure to the Queen of All Media (Oprah retired). I welcome all of it.
Scheduling:
Each team plays:
– against its seven conference-mates twice at home and twice on the road each:
 4 games x 7 teams = 28 games
– against the teams in the other conferences once at home and once on the road:
2 games x 24 teams = 48 games
– half of each conference pair up and play an additional home-and-home series (switch the pairings each season):
2 games x 3 teams = 6 games
28 + 48 + 6 = 82 game season
Playoffs:
• Top four teams from each conference qualify for a "final four" style tournament. All series are best of seven.
• Round 1: Conference Semifinals (1 seed vs. 4 seed; 2 vs. 3  (based on overall record))
• Round 2: Conference Finals (first round winners play each other)
• Round 3: Stanley Cup Semifinals (best overall record of remaining teams picks it's opponent for this round)
• Round 4: Stanley Cup Finals
As always, thanks for reading, and don't forget to use the sharing buttons to spread the word and wish me luck on my impending fatherhood in February.
—Tom