NHL Realignment Project – Week 42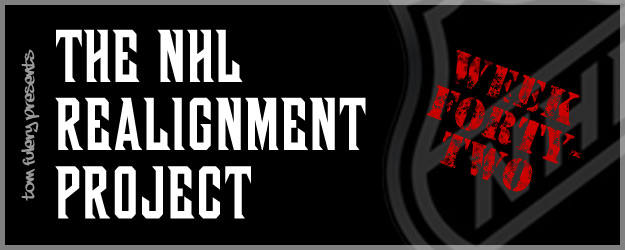 I'm Having Contractions
Back by popular demand, I'm going to be putting forth a realignment scenario that involves… Gary, hide your eyes… contraction.
The more I think about it, the more I realize it just won't ever happen. The following forces would rise up to fight it:
The league — it doesn't want that kind of egg on it's face
The NHL Players Association — they REALLY don't want it, because it would force them act like normal human beings and have to deal with a massive job layoff
The many cities that want NHL franchises
The smattering of billionaires out there that want to milk said cities for subsidized funds that they put towards what really is just a fun toy to show off to their other billionaire friends
But, since I am King of North America, let's ignore all those factors and just do it one more time. Here we go…
The Map: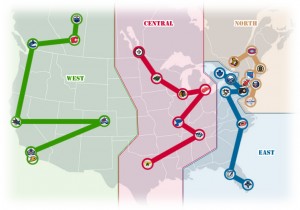 NHL Realignment Map – Week 42
The Breakdown:
Since I am a great and kind king (unless you're a Coyotes or Columbus fan), I've tossed Gary a bone by sticking with his 4-Conference set up, and tossed the players (well, the 93.3% percent that didn't get pink slips) one as well by even-ing up the number of teams in each conference and keeping the travel reasonably limited to north-south in nature.
NHL West
Anaheim Ducks
Los Angeles Kings
Calgary Flames
San Jose Sharks
Colorado Avalanche
Vancouver Canucks
Edmonton Oilers


NHL Central
Chicago Blackhawks
Nashville Predators
Dallas Stars
St. Louis Blues
Detroit Red Wings
Winnipeg Jets
Minnesota Wild


NHL North
Boston Bruins
New York Rangers
Montreal Canadiens
Ottawa Senators
New Jersey Devils
Washington Capitals
New York Islanders


NHL East
Buffalo Sabres
Pittsburgh Penguins
Carolina Hurricanes
Tampa Bay Lightning
Florida Panthers
Toronto Maple Leafs
Philadelphia Flyers


Gained Teams:
Nobody
Lost Teams:
Phoenix, Columbus
Scheduling:
Conference Games: 3 home & 3 away vs. 6 teams = 36 games
Inter-Conference Games: 1 home & 1 away vs. 21 teams = 42 games
An additional Home-and-Away versus a single opponent in each of the conferences not your own (to rotate through the league every 7 years): 1 home & 1 away vs. 3 teams = 6 games
TOTAL = 84 games (a.k.a. still not enough for Gretzky's single season records to be threatened)
Playoffs:
Top four in each conference qualify. First two rounds determine Conference Champions. Third round is the semi-finals (with the team with the best regular season record choosing his opponent). Fourth round is the Stanley Cup Finals.
Bonus Note:
Dear, Columbus and Phoenix, I promise you get to keep your teams next week. I've been mean enough for long enough. Everyone deserves a break, right?
(H/T to oilersnation.com for the original map)
Don't forget to share our lil' project with your hockey fan friends. And, as always, thanks for reading. Until next Sunday!
— TF
Make sure to check out the entire NHL Realignment Project ».