NHL Realignment Project – Week 28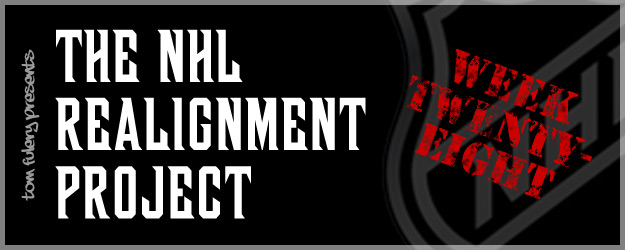 Gary Christmas!
Good news! So word from the 'internets' is that our buddy Gary has a proposal that is in front of the NHL Board of Governors that is gaining a little momentum. (There is actually a second one known as the "simple plan" that just swaps Detroit for Winnipeg and washes it's hands, but we won't even dignify that one with one of our lil' maps.)
Gary's plan is eerily similar to last week's plan, but does have a few surprises. Any movement in a sensible direction away from the current alignment is happy news indeed. Let's look at the map then break it down.
The "Alleged" Map (conference names added by me):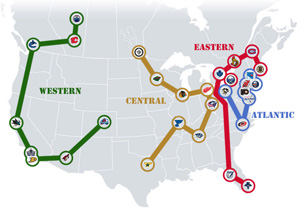 Gary Bettman's NHL Realignment Map
The Breakdown:
The league goes to four conferences. The two westernmost conferences have eight teams each, leaving the remaining conferences with seven each. The Penguins/Flyers rivalry is preserved (which was a concern with some other plans floating around over the last month) and no team has to travel over more than one time zone for intra-conference games. Additionally, the four-conference format supposedly leads to each team playing one home and one away game against all non-confernce opponents and the rest are against conference rivals (plus a few extras to even things out somehow). All in all, I have to say, Â "Not bad, G-man."……….. whoa, that felt weird.
| | |
| --- | --- |
| Western Conference | Central Conference |
| 1. Anaheim Ducks | 1. Chicago Blackhawks |
| 2. Calgary Flames | 2. Columbus Blue Jackets |
| 3. Colorado Avalanche | 3. Dallas Stars |
| 4. Edmonton Oilers | 4. Detroit Red Wings |
| 5. Los Angeles Kings | 5. Minnesota Wild |
| 6. Phoenix Coyotes | 6. Nashville Predators |
| 7. San Jose Sharks | 7. St. Louis Blues |
| 8. Vancouver Canucks | 8. Winnipeg Jets |
| Eastern Conference | Atlantic Conference |
| 1. Boston Bruins | 1. Carolina Hurricanes |
| 2. Buffalo Sabres | 2. New Jersey Devils |
| 3. Florida Panthers | 3. New York Islanders |
| 4. Montreal Canadiens | 4. New York Rangers |
| 5. Ottawa Senators | 5. Philadelphia Flyers |
| 6. Tampa Bay Lightning | 6. Pittsburgh Penguins |
| 7. Toronto Maple Leafs | 7. Washington Capitals |
The Benefits:
• Heritage — Every conference has at several Stanley Cup winners, three of four have Original Six teams (the fourth has a '67 Expansion team). As an added benefit, any reasonable playoff format will not eliminate the chance for an Original Six Stanley Cup Finals matchup.
• Travel and TV start times — No division spans more than two time zones. Travel burdens are lessened and fans of traveling teams have less frequent late-start (and later finish) times to contend with. Teams in what I'm calling the Eastern Conference have a bit of a longer commute with the inclusion of the Florida teams, but that just makes things a little more equitable as compared to the westernmost conferences (yes, the Atlantic has a bit of a "nearness advantage" but if that's our biggest problem, I'm okay with it)
• Rivalries —  We've keep almost all major traditional rivalries intact. As noted above, the PIT/PHI issue has been resolved. This plan also allows DET/CHI to continue as intra-division opponents. Not to mention: NJD/NYI/NYR, BOS/MTL, MTL/TOR/OTT, CGY/EDM/VAN, MIN/CHI, SJS/LAK/ANH and FLA/TBL. Throw in some interesting new rivalries that are created (PIT/WSH, DAL/NSH/STL (what? the lower mid-west needs something)), and we've got ourselves an interesting thing going.
Scheduling:
Other than the fact that everyone will play at least one home and at least one away game against everyone, I've get to get much in the way of details from the scheduling standpoint. To borrow again from last week's realignment plan here's how I would do it:
Conferences with 7 Teams:
Versus 6 in-conference rivals — 4 games (24 total)
Versus teams in the other 7-team conference — 2 games (14 total)
Versus 16 teams in the both of the remaining two conferences — 2 games (32 total)
Versus 8 teams in just one of those two 8-team conferences (rotating back and forth each year) — 2 more games (16 total)
24+14+32+16 = 86 games
Conferences with 8 Teams:
Versus 7 in-conference rivals — 4 games (28 total)
Versus 8 teams in the other 8-team conference — 2 games (16 total)
Versus 14 teams in the both of the remaining two conferences — 2 games (28 total)
Versus 7 teams in just one of those two 7-team conferences (rotating back and forth each year) — 2 games (14 total)
28+16+28+14 = 86 games
Playoffs:
The supposed playoff format is as follows:
• Top four teams in each conference qualify for the playoffs
• The first two rounds are conference playoffs (like the divisional rounds in the 80's).
– Conference Semifinals — #1 vs #4 and #2 vs #3
– Conference Finals — Semifinal winners faceoff
• Third round is a "Final Four" type matchup. Not sure if there is a "reseeding" that happens, or something (more awesome) like my proposed "team with the best record picks which final four opponent they want" plan. It'll be interesting to see if Gary's plan is something like this or if it just locks two conferences together always (honestly, this makes things more like the conference/division breakdown we currently have… boo).
• Fourth round is the Stanley Cup Finals pitting the last two teams standing against each other for the greatest trophy in all of sport (anyone arguing this point is a delusional idiot).
That's all I've got this week. Sorry for the delay, as I had Godfatherly duties this weekend baptizing my Godson. We should be back on track next Sunday.
(H/T to oilersnation.com for the original map)
Don't forget to share our lil' project with your hockey fan friends. And, as always, thanks for reading. Until next Sunday!
— TF
Make sure to check out the entire NHL Realignment Project ».
***UPDATE***
As you all know by now, this is the plan that passed, so removed all the "allegedly" adjectives from the above post and we're good. I have to say, I'm impressed by the BOG for actually doing something big and not playing it safe. The plan isn't perfect (no plan is… that's the real point of this NHL Realignment Project in the end), but at least they went big and finally Gary finally showed us that he isn't all about making the NHL into the NBA on ice.