NHL Realignment Project – Week 19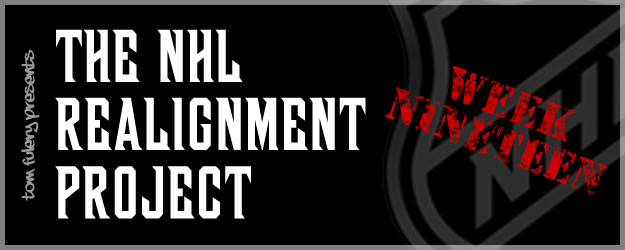 Champions Leage (Semi) Final
So this is the final iteration of the idea started three weeks ago, that of the "Champions League". We started with a league that consisted of only teams that had won the Cup, and then we expanded it to include teams that had made it to the Stanley Cup finals, but not necessarily won it. This we we push it a bit more, and admit any team who have at least made it to the Conference Finals… 26 teams in all.
Our league is divided them into four conferences, two of six team and two of seven. As per our most common custom in the NHL Realignment Project, the top four teams in each division qualify for the playoffs. Each division determines its champion followed by the two conferences crowning champs who square off for the Stanley Cup
So Here is The Map: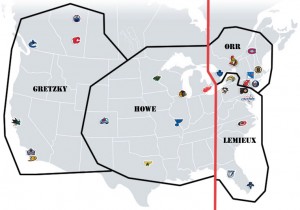 NHL Realignment Map – Week 19
The Breakdown:
Western Conference:
Gretzky Division: Anaheim, Calgary, Edmonton, Los Angeles, San Jose, Vancouver
Howe Division: Chicago, Colorado, Dallas, Detroit, Minnesota, St. Louis
Eastern Conference:
Lemieux Division: Buffalo, Carolina, Florida, Philadelphia, Pittsburgh, Tampa Bay, Washington
Orr Division: Boston, Montreal, New Jersey, New York Islanders, New York Rangers, Ottawa, Toronto
Gained teams:
None
Lost teams:
Phoenix, Winnipeg, Columbus, Nashville (Can you believe there are only four teams that haven't made it to at least the conference finals?)
The Benefits:
• Fairness — While the Western Conference teams have to travel further during the season, the Eastern Conference teams have more opponents in their respective divisions that they have to beat out for the "top four spot" to make the playoffs.
(H/T to oilersnation.com for the original map)
See you next week!
— TF
Make sure to check out the entire NHL Realignment Project ».