NHL Realignment Project – Week 16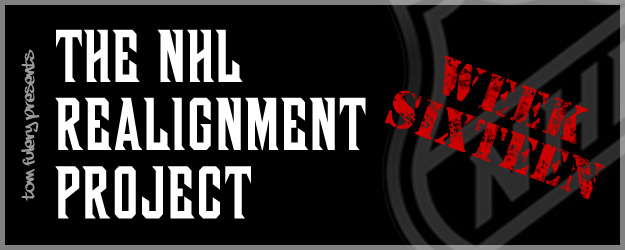 Champions League (Version 1)
Just like, last week, we're gonna go into contraction mode again. But we're pushing it much further this time. In this, the sixteenth week of the NHL Realignment Project, we're going to contract the NHL to only the current teams that have already won the Stanley Cup (yes, I know the NHL doesn't recognize the current Ottawa Senators to be the same as the original, actually-has-won-the-cup team, but I wanted to make it an even split, so I let it slide). That leaves us with eighteen teams. So does that mean all but two teams in the league make the playoffs? My answer to that riddle is a very scientific and well thought out one: "Sure, why not?"
Here's the map with the divisional breakdown (2 Conferences, no divisions):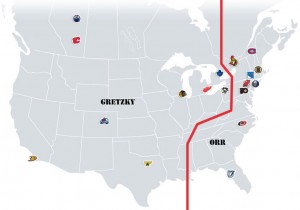 NHL Realignment Map – Week 16
The Breakdown:
Gretzky Conference: Anaheim, Calgary, Chicago, Colorado, Dallas, Detroit, Edmonton, Pittsburgh, Toronto
Orr Conference: Boston, Carolina, Montreal, Ottawa, New Jersey, New York Islanders, New York Rangers, Philadelphia, Tampa Bay
Gained teams:
None
Lost teams:
Vancouver, San Jose, Los Angeles, Phoenix, Winnipeg, Minnesota, St. Louis, Buffalo, Columbus, Nashville, Florida, Washington
The Benefits:
• Talent — Whoa nelly! My math may be off, but wouldn't cutting 40% of the teams out of the NHL mean we'd be leaving the bottom 40% of the talent out of the league too? It'd be like my fantasy league (speaking of, we're desperate for people to join). Basically we'd have an All-Star Game level of talent, but with checks.
• Amazingly Historical Match-ups in the Stanley Cup Finals (potentially) — The Original Six Teams have been divided evenly between the two Conferences. So lots of potential for old school finals. Not to mention the potential for a Pittsburgh/Philadelphia final. I don't know if Pennsylvania would survive that, actually.
• Tradition — When the league is made up of only teams that have won it all, tradition is pretty much built in (*cough cough* tampadallascarolinaanaheim? *cough*)
(H/T to oilersnation.com for the original map)
Check back for version 2 of this concept next week!
— TF
Make sure to check out the entire NHL Realignment Project ».