NHL Realignment Project – Week 18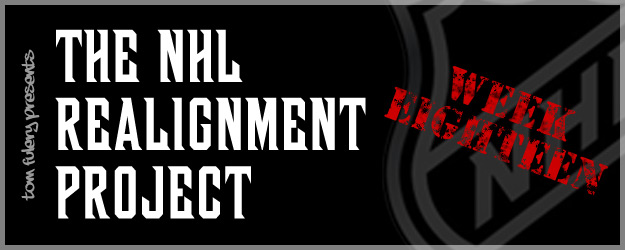 Champions League Plus
Expanding on the idea that started two week ago, this week we're expanding by six teams (à la 1967). The six teams we've allowed into our "Champions League" are the teams that have be able to make it to the Stanley Cup Finals, but haven't won. They've earned their stripes, and now have the chance to make that final step.
We're a 24-team league in this format, and we've divided them into four conferences, each of which fill out a playoff bracket with their top four teams. Playoffs involve the four teams deciding a Conference Champion which lead to a "final four" that reseed to determine semi-final opponents… best record plays fourth best… second best record plays third best.
The Map: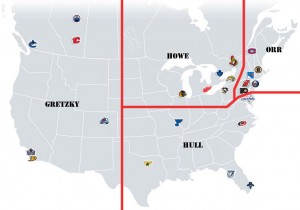 NHL Realignment Map – Week 18
The Breakdown:
Gretzky Conference: Anaheim, Calgary, Colorado, Edmonton, Los Angeles, Vancouver
Hull Conference: Carolina, Dallas, Florida, St. Louis, Tampa Bay, Washington
Howe Conference: Buffalo, Chicago, Detroit, Ottawa, Pittsburgh, Toronto
Orr Conference: Boston, Montreal, New Jersey, New York Islanders, New York Rangers, Philadelphia
Gained teams:
None
Lost teams:
San Jose, Phoenix, Winnipeg, Minnesota, Columbus, Nashville
The Benefits:
• Talent — While we're not cutting 40% of the teams out of the NHL like the last two weeks, we are still doing some significant chopping. Teams will have plenty of talent to choose from to replace their lesser players with guys from the six shuttered franchises.
• Amazingly Finals — Making the playoffs reseed for the semi-finals, should (more often than not) yield a better Finals matchup. No more "the last round help better matchups than the Finals" talk.
• Tradition — When the league is made up of only teams that have won it all or made it to the Finals, tradition is pretty much built in.
(H/T to oilersnation.com for the original map)
See you next week!
— TF
Make sure to check out the entire NHL Realignment Project ».