NHL Realignment Project – Week 14
The Mother Lode!
Okay, last week was a little out of control with 37 teams… so this week I've decided to UP IT EVEN MORE! I've taken Week 13's concept of every city that ever lost a team got one back and have piled on seven more cities I've deemed "deserving".
The reason I went seven was to get us up to a number of teams (44) that was divisible by four (but not eight or six)… getting us to the fashionable four-division breakdown. Two conferences, each made up of two divisions of 11 teams each. Top four teams in each division make the playoffs.
So how did I determine which cities were deserving? I started with adding I basically looked at Wikipedia's list of largest North American Metro Areas and took the four largest North American metro areas that already have AHL teams. Turns out they all ended up being American. The AHL is basically non-existent in the west, so I then added Seattle, Portland and Las Vegas to help balance things out.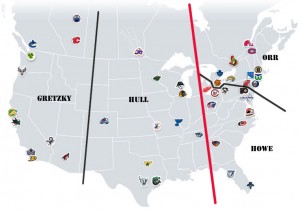 NHL Realignment Map – Week 14
Gained teams:
Oakland, Kansas City, Quebec City, Atlanta, Hamilton, Hartford, Cleveland, Seattle, Portland, Houston, San Antonio, Las Vegas, Milwaukee, Norfolk/Virginia Beach
Lost teams:
None
Benefits:
• Full Coverage — Every hockey city that ever was, is on this map. The big cities out west join the club. Proven (and large enough) AHL cities come on board too. SO MUCH HOCKEY!
• Rivalries — Tons of existing and soon-to-be-awesom rivalries are built in. For those of you in Pennsylvania, you're in-state rivalry has been left intact (unlike the last few weeks). The Texas-trio of DFW, H-Town, and the Alamo city would be intriguing. Seattle/Portland/Vancouver too…. and Oakland/San Jose, Chicago/Milwaukee, Montreal/Quebec, Norfolk/Carolina… to name a few.
(H/T to oilersnation.com for the original map)
See everyone next week!
— TF
Make sure to check out the entire NHL Realignment Project ».