NHL Realignment Project – Week 4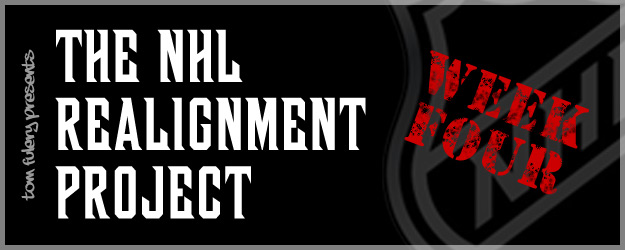 Week 4 – The Devil You Say!
All apologies to Kevin Smith, but this week, the biggest victims are the New Jersey Devils. The Devils have underachieved in attendance forever, and there are just too many teams in the Greater NYC area. In this make believe world, I could just has easily taken the axe to the Islanders, but let's say they've just signed an agreement to move to the new arena in Brooklyn, so they stay.
I'm sure in a future installment, I'll move the four-time champs instead of the three time champs.
Anyhoo, I'll be sticking with the 30-team (with 9 in Canada) set up for this week again. Unlike last week, we've kept the sunny states in the mix, though. And GASP… Phoenix has kept their team!
There's been a little bit of a change in my homage division names. This week, Orr is out and Richard is in, plus there are more divisions, so we've added Lemieux and Dionne.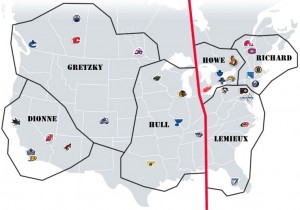 NHL Realignment Map – Week Four
Gained teams:
Las Vegas, Hamilton, Quebec City
Lost teams:
New Jersey, Florida, Columbus
Benefits:
• Less competition in NYC — Strengthening the NYR/NYR rivalry is a side benefit of this one.
• More Canadian teams — Hamilton and Quebec City join the league, bringing the home of hockey up to 9 teams.
• More balanced East/West — Detroit to the east, means no more Eastern Time Zone teams in the Western Conference. Winnepeg and Colorado are the only teams that have any real beef as far as travel within the division goes, but for Colorado, it's pretty much what they are used to, and for Winnipeg, it's certainly better than being in the current Southeast division.
(h/t to oilersnation.com for the original map)
Until next week!
— TF