NHL Realignment Project – Week 3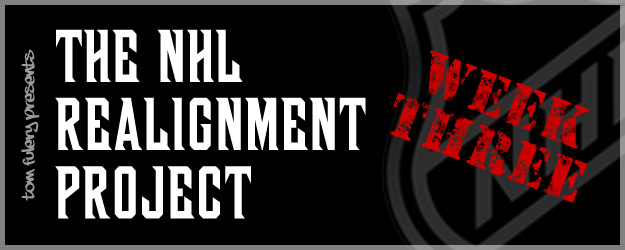 Week 3 – Damn, that's Cold
Okay, I'm going a bit radical this week. This one is for all those anti-southern city folks.
NOTE: I am not one of the anti-southern city peeps. I live in Texas, after all.
So basically, with this plan, we've decided that the NHL hockey is a purely niche sport that has no place in the warmer climates where there isn't a culture of hockey, or at least a cold enough winter to cultivate one. Niche sport means niche salaries, so some of the smaller market teams could survive with a slightly lower salary cap. My completely arbitrary line of demarcation (other than the fact it is used as a border for quite a few states) is the 37th parallel north. Four former champs (Stars, Hurricanes, Lightning, Ducks) get bounced, not to mention another runner-up (Kings). Damn, that's cold. Oh well.
Sticking with the current 30-team makeup… just relocating current further north. Also sticking with Week Two's division names.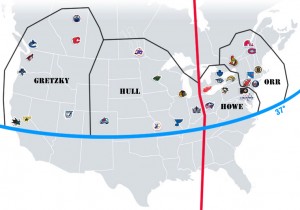 NHL Realignment Project — Week Three
Gained teams:
Quebec City, Portland, Sacramento, Kansas City, Seattle, Indiana, Salt Lake, Hamilton
Lost teams:
Dallas, Tampa Bay, Florida, Nashville, Carolina, Phoenix, Los Angeles, Anaheim
Benefits:
Honestly, not all that much. That being said, here we go:
• Easier support for/from youth leagues. — With longer winters (a.k.a. less outdoor sport competition), youth hockey leagues and grassroots interest in the sport can thrive more than in the South.
• More Canadian teams — Hamilton and Quebec City join the league bringing the home of hockey up to 9 teams.
• Interesting(?) new rivalries — Sacramento/San Jose, Portland/Seattle, Seattle/Vancouver, KC/St. Louis, Toronto/Hamilton, Quebec City/Montreal, Salt Lake/Colorado (admittedly inter-divisional)
• More balanced East/West — Decent split geographically, allowing for the Wings and Blue Jackets to be Eastern Time Zone teams in the Eastern Conference. Indiana is (at least a tiny portion) partially in the Central Time Zone… so that's my excuse for the team in Indianapolis.
Fear not, Texas/Florida/Carolina/SoCal/Tennessee/Arizona folks… a change this drastic can never happen. There are just too many people and money south of the 37th. But don't get too cozy, Phoenix and Miami, there's a really good chance you'll be losing your teams in the next 1-3 years. D'oh! (h/t to oilersnation.com for the original map)
Until next week!
— TF