NHL Realignment Project – Week 1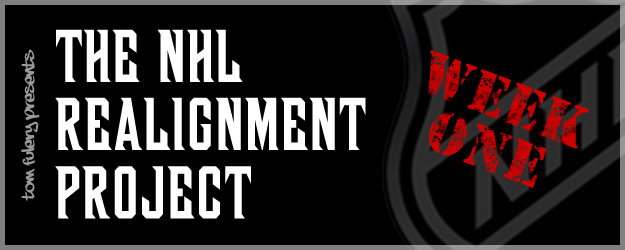 Week 1 – Moving and Shaking (and Expanding)
What timing… the day I launch my first of 52 (or more) weekly NHL realignment options, the NHL made it official (pending BOG approval), the sale and move of the Thrashers franchise to Winnipeg, so no need to include Winnipeg/Atlanta in my potential gained/lost descriptions. Serendipity, baby.
Anywhoo. Here's my first realignment, and accompanying maps (special thanks to oilersnation.com for the map). Too nulify any "that can't happen" arguments, please refer to my "King of North America" defense.
In Week One, we look an NHL that has expanded to 32 teams. Westward ho! Three new teams west of the Mighty Mississippi help provide a bit more balance to the geographical layout of the NHL. That coupled with Winnipeg now being in the Western Conference, means that 15 of the 16 teams in the Eastern Conference are in the Eastern Time Zone (newly transferred Nashville is the exception). I chose to leave Detroit in the West to help maintain some bitter rivalries with Chicago and Colorado (and to a lesser extent Dallas, Minnesota and St. Louis). This will undoubtedly not be the case in some of my subsequent realignments in the coming weeks.
Gained teams:
Las Vegas, Seattle, Quebec City, Kansas City
Lost teams:
Florida, Phoenix
Benefits:
• Hitting the magic number of 32 franchises — It becomes easier to divide the teams up into four or eight divisions.
• Fairer travel — This mitigates some of the unfair travel strain placed on teams with the current league lineup. Sure, Western teams will still have to travel more often than their Eastern brothers, but geography and demographics make a pure balance pretty much impossible. This plan's focus on adding teams mostly out west, makes things a little better for some long-frustrated franchises (I'm looking at you Minnesota and Dallas).
• More rivalries — Kansas City comes onboard to piss off St. Louis Blues fans. Seattle takes up the Phoenix franchise and becomes a natural rival for Vancouver. Same thing for Quebec City and Montreal.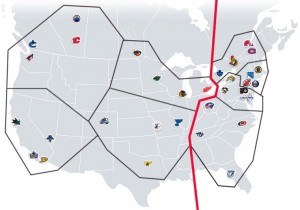 NHL Realignment Project — Week One (Map A)
Eastern and Western Conferences—each with 4 Divisions
or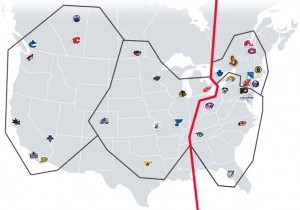 NHL Realignment Project — Week One (Map B)
Eastern and Western Conferences—each with 2 Divisions
And we're off to a fun start. See you next week!
— Tom Fulery