After Sunrise
The Florida Panthers have always been the easy whipping-boy for the "hockey doesn't belong in non-traditional markets" crowd. They are also always the first picked on by the "NHL realignment is easy, just do this…." crowd.
The reality is, they have one of the cushiest arena leases out there (and for 14 more years). So I've never put too much stock in the Panthers-to-this-city-or-that noise. But this recent article makes things a little more interesting.
Obviously, owners of franchises always talk a lot of crap when they are trying to squeeze more "free money" out of the tax base, but when an owner starts saying thing like "unsustainable" and talks of getting a break on what would be an $80 million lease buy out, there may be a little fire to that smoke. Don't get me wrong, I still think it's mostly posturing to get the $80 million subsidy they've tried to twice in the last little while (coincidentally the same amount as the lease buyout amount)… but, my adjective has shifted to "mostly" from "totally."
I'm sure new owner Vincent Viola would totally take the taxpayers' money if it happens, but I also don't think it's far-fetched for him to move the team if he doesn't get an even more favorable agreement in Sunrise.
That was a really long intro to the following musing for a new map (it's been forever since I made one, I know).
Picture if you will, an NHL where the league finally admits they are ready to expand. Thanks to crazy money being talked about for a second GTA team, and, I'm sure somewhat crazy money for a return team for Quebec City, some 1-2 billion bucks are to be split between the 30 ownership groups. If Viola can negotiate down from the $80 million he'd have to pay Sunrise to leave, plus a bunch o' new money in his pocket, it's not too far-fetched that he'd do it.
Now in this scenario he could be the owner for the "we don't have an owner" but let's get the NHL in Vegas hullabaloo we've all heard. Or he could be the guy that finally hitches his wagon to Hansen and gets the MOU changed to allow hockey-first in the Seattle arena deal? Or perhaps he could just move over to existing NHL arenas in Kansas City or Houston. Whichever way, let's look at the maps that show this new NHL… just in time for the league's centennial celebration:
The Seattle Version: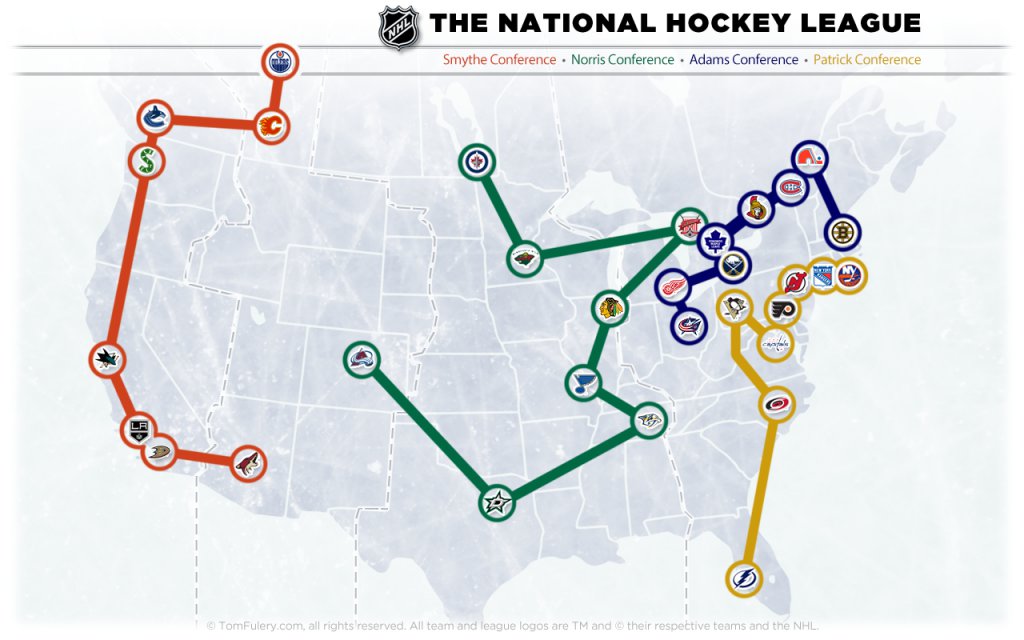 The Las Vegas Version: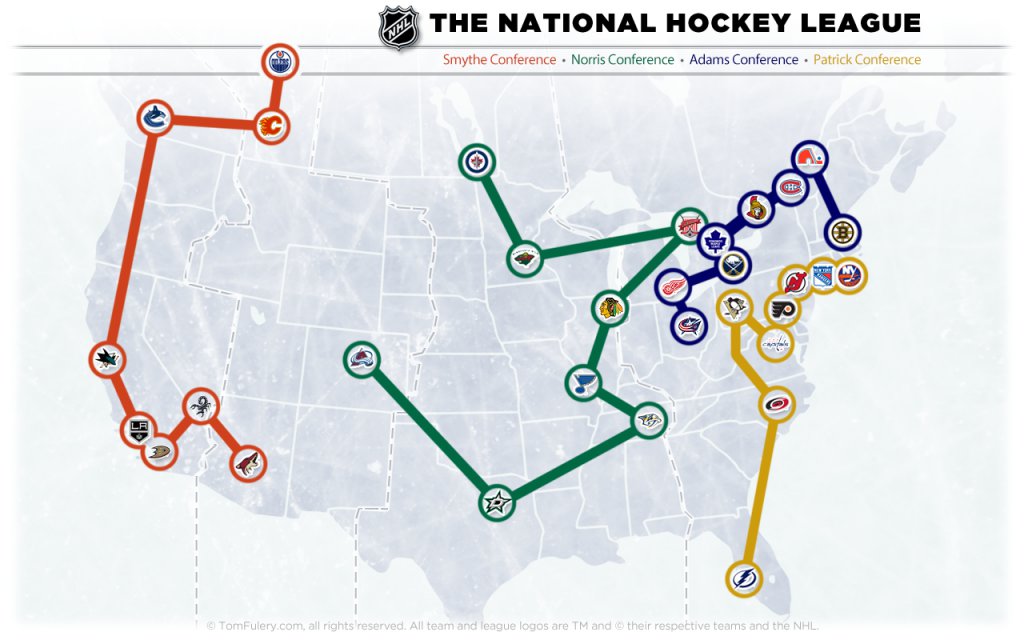 The Houston Version: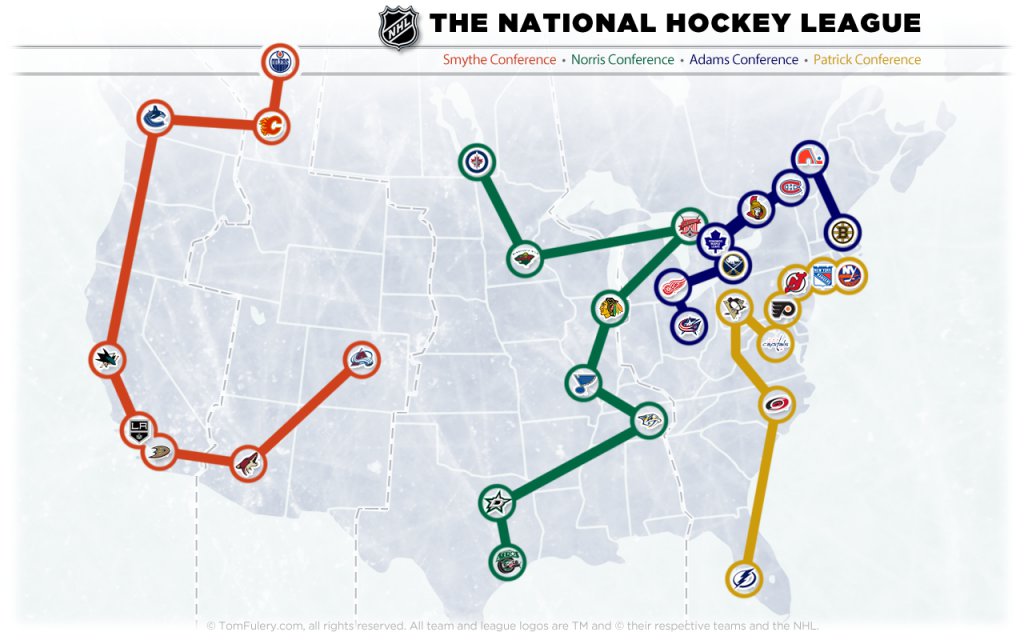 The Kansas City Version: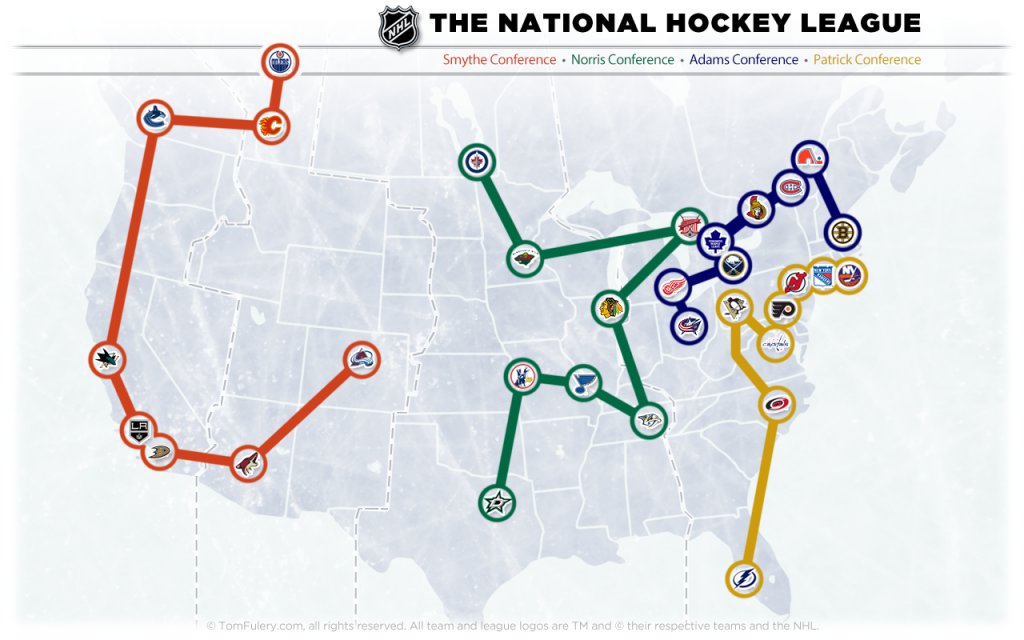 Some notes:
Four eight-team conferences. Just like ol' Gary originally wanted until the mathematicians out there all screamed about unfair, mathematical advantages to teams in smaller conferences.
No wild-card. That's was Gary's cop out to allow for the unbalanced conferences (that were changed back to divisions)
Top four teams in each conference make the playoffs
First two rounds determine conference champions… a "final four" if you will
Final Four are reseeded based on regular season record for "Stanley Cup Semi-finals" — 1 vs. 4 and 2 vs. 3.
Yes, this is a really good thing… With four conferences sending representatives to the semifinals instead of two conferences sending their champs directly to the final, the potential a very imbalanced dud of a final series goes down… not to mention the chance for an original-six Stanley Cup Finals goes up. New York vs. Boston for the Cup, anyone? Pens vs. Leafs… SportsNet and NBC execs have just passed out.
I've brought back Smythe, Norris Adams, and Patrick. A bonus way to celebrate the tradition of 100 years of NHL hockey… bringing back the cool-ass, no other league has it naming structure.
Yes, I know that I've put the second GTA team a not-Eastern Conference. Anyone willing to pay upwards of a billion dollars on expansion, is going to be okay with the stipulation that they play 23 of their 82 games (see schedule below) outside of their timezone.
Schedule:
48 games — Home and Home versus non-confernce opponents
28 games — 2 Home/2 Away versus conference-mates
6 games — An additional Home and Away versus one team in each of the other three conferences (rotates through all teams each eight years)
I think that works out. 82 games
Caveats for all this: I'm tired and not good at math, so there might be something wrong in the above schedule… I have no insider info on the goings on of the NHL, the Panthers, or any other team… I'm just a guy with photoshop, wordpress, a nurse wife working an overnight tonight and a daughter that mercifully went to bed at a decent hour … No need to call me an idiot in the comments, I already know this… don't take this seriously (hey, my name is Tom Fulery)… I don't wish any ill on the Panther fan base—losing a team must suck really badly (my friend and former Thrashers season-ticket holder, still isn't over it)… I used the "Toronto Legacy" logo from the now defunct torontolegacy.com site—I claim no rights to it (nor any of the other logos)… I stuck a scorpion in Las Vegas, just cuz.
Thanks and good night:
— TF