Nate Silver Optimizes the NHL
In his NY Times post, FiveThirtyEight's Nate Silver steps away from politics and baseball to take on the NHL. The post's title, "Why Can't Canada Win the Stanley Cup?" is a lead-in premise to his re-imagining of a more balanced league in terms of where and how intense fanbases seem to be.
It's nice to see a mind far smarter and more analytical than my feeble patchwork of five or six braincells look at how to better the league.
I've taken his new 28-team optimized NHL and put my ol' realignment spin on it. Same guidelines apply as my NHL Realignment Project:
1). Keep the conferences limited to one or two time zones (a.k.a limit East-West travel);
2.) Preserve rivalries as much as logistically possible.
Here's the map (click it for full size):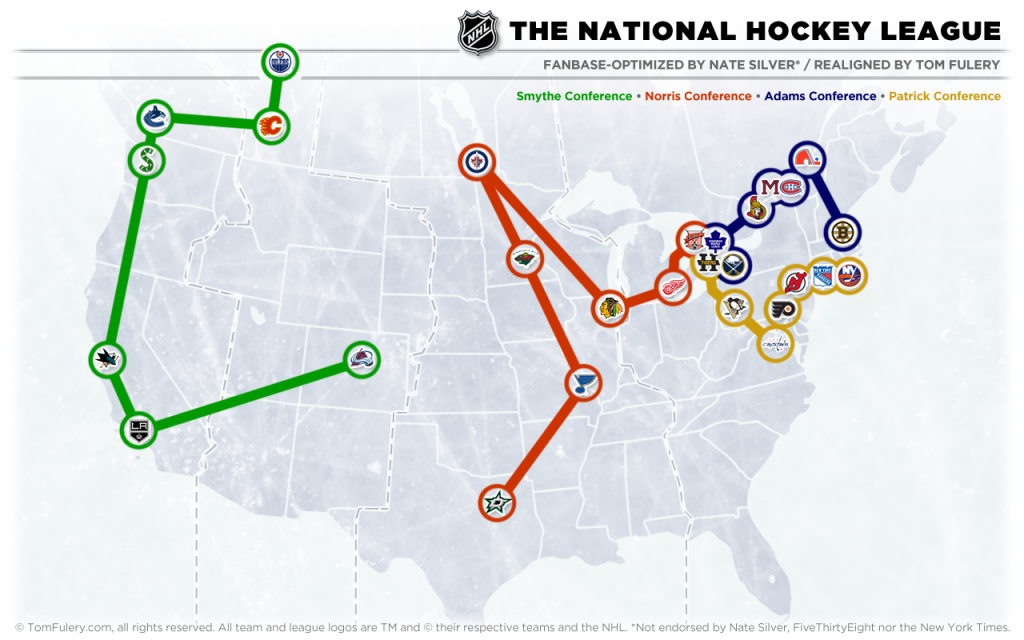 Bonus Tidbits (mmmmmmmmmm Timbits):
I've used the four conference, no divisions format
The conferences bring back the old school names used for divisions from 1974-1993
The new Dallas Stars logo is used
Quebec Nordiques, Hamilton Tigers, Montreal Maroons are all throwback names to previous NHL teams located in each of those locales.
Seattle Metropolitans, while never an NHL team, was a PCHA team that played from 1915-1924, and was the first American team to win the Stanley Cup (wikipedia article)
Toronto Legacy is a name used by a movement for getting a team into Markham, Ontario (site).
Nice to post something about realignment again. I gotta say, I missed it.
As always, thanks for reading… and make sure to check out Nate Silver's book, The Signal and the Noise: Why So Many Predictions Fail — but Some Don't
Check out the rest of the NHL Realignment Project too, in case you missed it.
– Tom