What the 2013-14 NHL Should Look Like
It's pretty safe to assume that the NHL isn't going to expand or contract any time soon. And it's just as safe to assume that realignment will happen for the 2013-14 season without any relocations. With that in mind, I've put together this recommendation to the powers that be for what a sensible, rivalry-filled and complete NHL alignment should be, compete with schedule details… again, like week 52, this should only be a short-term thing. A 32-team league with an even more sensible alignment would be better.
This is kind of an addendum to the NHL Realignment Project I just finished, but it is laser-focused on being realistic and getting it right (until expansion, anyways).
My main goal was to create an atmosphere for rivalries (cultivate existing ones and hopefully creating new ones). My other "must have" was that every team play in every other team's building at least once.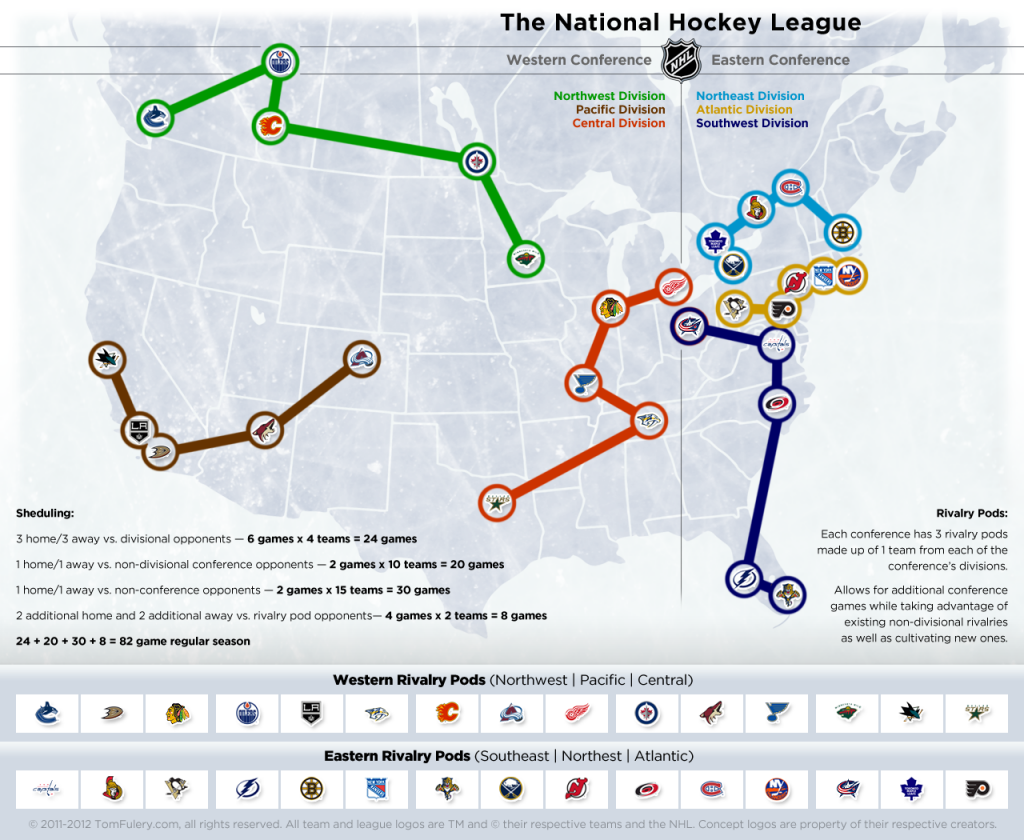 Please make this NHL realignment happen. Thanks!
You'll probably notice that the divisional alignment is the same as my Week 52 scenario, but now I've streamlined and modified the "Rivalry Pods" from that proposal. The rivalry pods are made up of one team from each of the divisions in the conference, paying attention (where possible) to existing non-divisional rivalries that exist today. Additionally, this rivalry pod concept will make the NHL unique amongst the "Big 4″ North American sports. We all know it's the best, but a little extra "we're cooler than you" can only help.
Pod-mates of note:
DET/COL (Draper);
WPG/PHX, MIN/DAL (relocation revenge);
VAN/CHI (duh); EDM/LA (Gretzky);
WSH/PIT (recent playoffs (not to mention Syd and Ovie));
MTL/NYI (two longest Cup dynasties);
TOR/PHI (last champ of the Original Six era and first champ from the Great Expansion);
NYR/BOS (Original Six plus Yankees Red Sox);
FLA/BUF/NJ (Three of the four cities with teams in the NFL's AFC East)
The make-up of the pods can be argued and shifted, but I think this would be the ideal set up for a slightly realigned NHL.
I could see this happening.
Maybe we'll be lucky and it actually will.
— TeeEff