NHL Realignment Project – Week 39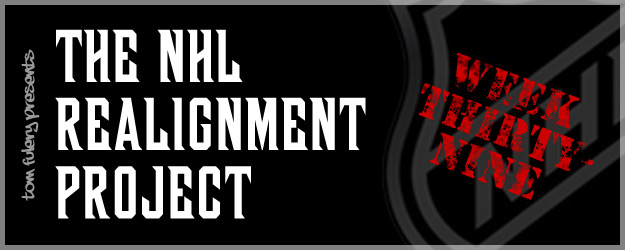 Simply Seattle
On time this week!
As much as a lot of us would like to see the NHL contract to 28 teams, the reality is it'd take a massive collapse in league-wide revenues for that to happen… not to mention that Heavy G and the Boyz™ (Gary Bettman and the Board of Governors) will pretty much do anything to avoid the egg-on-face press conference to admit that the league is overextended and that contraction is the only solution). Put bluntly, this isn't going to happen. So franchise moves from city to city and/or expansion are the only reality-based changes that the NHL will be seeing anytime soon. With this in mind, I'm gonna be sticking with "actually possible" scenarios for the next few weeks. (I'll do a sensible contraction scenario soon enough, don't worry).
With the Seattle arena thing still in the news we're gonna run with the very viable scenario of the only change in the NHL for 2012-13, team-wise would be a relocation of the Phoenix Coyotes franchise from their home in the desert to the Pacific Northwest's Emerald City, Seattle. (NOTE: Yes, I am aware of the fact that there has been a bit of buzz around a potential Coyotes buyer being approved by the league (meaning they approve of him to potentially buy the team, not they have approved the sale itself), but we'll deal with the implications of that next week). So let's look at a PHX-to-SEA move.
The Map: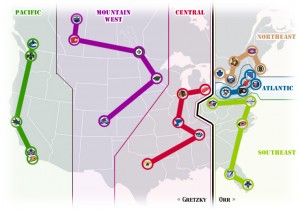 NHL Realignment Map – Week 39
The Breakdown:
Those of you who are fans of the current league set-up will (mostly) love this. We're sticking with the two conferences, made up of three 5-team divisions set-up that has been the league's preference since 1998 (aside: see sixteenwins' infographic on all of the league's realignments over the years). Of all the realistic scenarios based on the current format, this is probably my favorite… not to mention one I wouldn't be surprised seeing implemented (at least until expansion or the Islanders, Panthers, Jackets, Lightning, and/or Hurricanes throw a wrench into the works).
Seattle's addition means there are actually five teams in the Pacific time zone (and on/near the Pacific Ocean for that matter), so that makes that division name make sense for the first time ever. Peeling Vancouver away from the two Alberta teams will undoubtedly ruffle some feathers, but replacing them with a rival in an amazing city only a three-ish hour bus ride away from their home makes up for it. Pulling Dallas out of the Pacific and Winnipeg out of the Southeast rounds out the "sensible" moves we're implementing. Detroit's yearning to be in the Eastern Conference has unfortunately not been appeased, but hopefully a smarter scheduling will make them a little less sad).
The Wayne Douglas Gretzky Conference
Pacific
Mountain West
Central
Anaheim Ducks
Calgary Flames
Chicago Blackhawks
Los Angeles Kings
Colorado Avalanche
Dallas Stars
San Jose Sharks
Edmonton Oilers
Detroit Red Wings
Seattle Totems
Minnesota Wild
Nashville Predators
Vancouver Canucks
Winnipeg Jets
St. Louis Blues
The Robert Gordon Orr Conference
Northeast
Atlantic
Southeast
Boston Bruins
New Jersey Devils
Carolina Panthers
Buffalo Sabres
New York Islanders
Columbus Blue Jackets
Montreal Canadiens
New York Rangers
Florida Panthers
Ottawa Senators
Philadelphia Flyers
Tampa Bay Lightning
Toronto Maple Leafs
Pittsburgh Penguins
Washington Capitals
Gained Teams:
none
Lost Teams:
none
(H/T to oilersnation.com for the original map)
Don't forget to share our lil' project with your hockey fan friends. And, as always, thanks for reading. Until next Sunday!
— TF
Make sure to check out the entire NHL Realignment Project ».