NHL Realignment Project – Week 38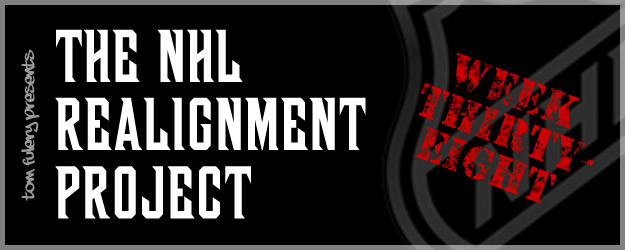 Something Old, Something New(s)
My insomnia has served me well this evening. In addition to finally having a moment to finish up this week's (very late) entry, I've gotten wind of the interesting news that sometime on Thursday, a plan for an NBA/NHL arena to be built in Seattle will be revealed. Check the Seattle Times for the story.
Anyhoo, I had planned on going with contraction this week, but this news has forced me to put that off until next week and do yet another realignment scenario with Seattle involved. Toss in the addition of a Salt Lake City team, and we've got "something new" covered (even though the city has won a Stanley Cup in the past). I've decided to balance out the "newness" with some "oldness", so we're giving three former NHL cities a team again. Let's check the deets…
The Map: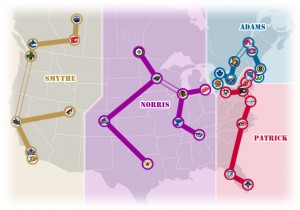 NHL Realignment Map – Week 38
The Breakdown:
Behold! The return of the 4-Confernce NHL! We're naming them after our old skool division names—Patrick, Adams, Norris, and Smythe. Eight teams in each division giving us a total of 32 teams. For scheduling reasons only, each conference his subdivided into two 4-team scheduling pods. Looking at the map, you'll see the two pods in each conference separated thin, double-line. This is a rehashing of our genius plan from many weeks back to allow for a smarter, more-balanced, and more travel-freindly schedule. Please do not confuse these scheduling pods for divisions… a teams primary goal in a season is to finish in the top-four in its conference to qualify for the playoffs, pods have nothing to do with standings. Just scheduling… got it? Cool.
Smythe Conference
Calgary Flames
Anaheim Ducks
Edmonton Oilers
Los Angeles Kings
Seattle Totems
San Jose Sharks
Vancouver Canucks
Utah Coyotes
Norris Conference
Colorado Avalanche
Chicago Blackhawks
Dallas Stars
Detroit Red Wings
Minnesota Wild
Nashville Predators
Winnipeg Jets
St. Louis Blues
Adams Conference
Buffalo Sabres
Boston Bruins
Hamilton Tigers
Hartford Whalers
Ottawa Senators
Montreal Canadiens
Toronto Maple Leafs
Quebec Nordiques
Patrick Conference
New Jersey Devils
Carolina Hurricanes
New York Rangers
Florida Panthers
Philadelphia Flyers
Tampa Bay Lightning
Pittsburgh Penguins
Washington Capitals
Gained Teams:
Seattle, Salt Lake City, Quebec City, Hamilton, Hartford
Lost Teams:
Phoenix, New York Islanders, Columbus Blue Jackets
The Benefits:
• Geography — In a reasonably decent effort (if I do say so myself), the conferences are pretty geographically sound. The one beef someone might have is the DET/COL jaunt, but if that's the only two-time-zone jump anyone has to make, I think we're good… and compared to what the Wings currently deal with, I'm sure they won't mind. Plus those teams have some nasty history… it'll be fun.
• Travel — Games outside your conference consist of one home and one away game per team, minimizing the longest of the NHL's trips. Scheduling pods lessen the longer trips within conference as well. Win-win.
• Rivalries — We keep CHI/DET, NYR/NJD, PIT/PHI, MTL/BOS, so everyone should be satisfied there. The revived rivalries of BOS/HRT, QBC/MTL and the new rivalries of SEA/VAN and TOR/HML will only serve to make the NHL even awesomer…est.
• Heritage — C'mon! The division names are awesome. Hockey is special, it's time the conference names reflected that anew.
Scheduling:
In-Conference/In-Pod: 3 home & 3 away vs. 3 teams = 18 games
In-Conference/Non-Pod: 2 home & 2 away vs. 4 teams = 16 games
Non-Conference: 1 home & 1 away vs. 24 teams = 48 games
TOTAL = 82 games
Playoffs:
Top four teams from each conference qualify for the playoffs.
First and second round of the playoffs determine Conference champions and give us our Final Four.
Final Four team with the best record chooses its opponent for the Semi-final round (will be cool to see what factors will go into this choice—travel distance, least-hot goalie, how tired an opponent might be from previous series, etc.)
Two Semi-finals winners square off in the Stanley Cup Finals
(H/T to oilersnation.com for the original map)
Don't forget to share our lil' project with your hockey fan friends. And, as always, thanks for reading. Until next Sunday!
— TF
Make sure to check out the entire NHL Realignment Project ».