NHL Realignment Project – Week 34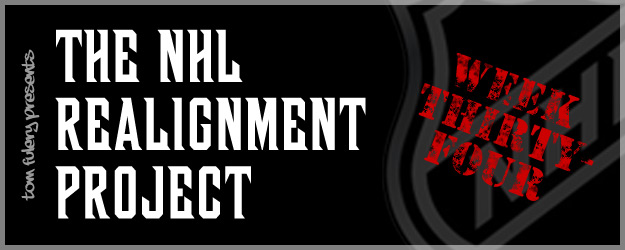 So Long, Sunshine and Buckeye States
Only a day late, this week! Not too shabby.
Today we're gonna take a break from solving the league's (and the association's) problems… since they don't want to have the problems solved to begin with. Week 34 is back into "what if" mode (a.k.a. "Tom, you're an idiot, that'll never happen"). The structure stays as it currently is in the NHL, but the Florida and Ohio teams have been moved. In doing so, we've minimized much of the "outliers" and created divisions that are a lot more sensible then they currently are—"Pacific" Division, I'm looking at you. Oh, and the Phoenix Coyotes survived this week… thought I'd cut 'em a break.
The Map:
The Breakdown:
Just what the NHL/PA have decided we're gonna be stuck with for a while—two conferences of three divisions each.
The Wayne Douglas Gretzky Conference
Northwest Division
Southwest Division
Central Division
Calgary Flames
Anaheim Ducks
Chicago Blackhawks
Edmonton Oilers
Colorado Avalanche
Dallas Stars
Portland Eagles
Los Angeles Kings
Minnesota Wild
Seattle Metropolitans
Phoenix Coyotes
St. Louis Blues
Vancouver Canucks
San Jose Sharks
Winnipeg Jets
The Robert Gordon Orr Conference
Great Lakes Division
Northeast Division
Southeast Division
Buffalo Sabres
Boston Bruins
Carolina Hurricanes
Detroit Red Wings
Montreal Canadiens
Nashville Predators
Hamilton Tigers
New Jersey Devils
Pittsburgh Penguins
Ottawa Senators
New York Islanders
Philadelphia Flyers
Toronto Maple Leafs
New York Rangers
Washington Capitals
Gained teams:
Seattle, Portland, Hamilton
Lost teams:
Florida, Tampa Bay, Columbus
The Benefits:
• Travel — It's not perfect, but at least there are no crazy "Dallas and Minnesota traveling two time zones for a divisional game" scenarios. Divisions are pretty much as compact as they can been given the realities of geography. Obviously the 15 western-most teams have to travel more, compared to what some of them currently do, I'm sure many would say this is pretty damn good.
• The Detroit Problem — Detroit finally gets their wish of moving East. Columbus did too… unfortunately for CBJ fans, they moved East AND North… to Hamilton.
• Cohesive Northwest — Moving the Florida teams to the Pacific Northwest instantly makes the Northwest Division infinitely more interesting and sensible… Seattle and Portland is far more likely to become what we hoped Tampa/Miami would become they they actually did become (at least the Lightning won a Cup, though).
• Rivalries —  Though we lose CHI/DET, we do get TOR/DET… not bad. The NYC-area teams, the Alberta teams, Pennsylvania teams, and BOS/MTL all stay together too, so check that off your list.
Not even gonna bother with scheduling or playoffs this week. I like my solution from last week so much, I'm just gonna bask in that glory for a while longer.
Don't forget to share our lil' project with your hockey fan friends. And, as always, thanks for reading. Until next Sunday!
— TF