NHL Realignment Project – Week 30
Seeking 32 (KC, QBC, Hamilton, Portland)
This week, we continue our effort to find the "perfect 32" homes for a slightly expanded NHL. Last week we left all current host-cities alone, just adding two new cities (Kansas City and Quebec) to bring us up to 32 teams. This week, we're a little less nice. Gone are Phoenix and Columbus and we add two Canadian teams as well as two American teams to bring us up to the magic number. We also tweaked the layout of the four conferences a bit… making travel a little bit more equitable across the board.
The Map: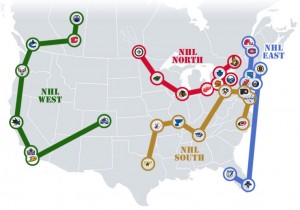 NHL Realignment Map – Week 30
The Breakdown:
Again, our conferences all have eight teams. Conferences are named for the four cardinal directions: West, South, East, North.
| | | | |
| --- | --- | --- | --- |
| NHL West | NHL South | NHL East | NHL North |
| 1. Anaheim Ducks | 1. Carolina Hurricanes | 1. Buffalo Sabres | 1. Boston Bruins |
| 2. Calgary Flames | 2. Dallas Stars | 2. Chicago Blackhawks | 2. Florida Panthers |
| 3. Colorado Avalanche | 3. Kansas City Scouts | 3. Detroit Red Wings | 3. Montreal Canadiens |
| 4. Edmonton Oilers | 4. Nashville Predators | 4. Hamilton Tigers | 4. New Jersey Devils |
| 5. Los Angeles | 5. Philadelphia Flyers | 5. Minnesota Wild | 5. New York Islanders |
| 6. Portland Eagles | 6. Pittsburgh Penguins | 6. Ottawa Senators | 6. New York Rangers |
| 7. San Jose Sharks | 7. St. Louis Blues | 7. Toronto Maple Leafs | 7. Quebec Nordiques |
| 8. Vancouver Canucks | 8. Washington Capitals | 8. Winnipeg Jets | 8. Tampa Bay Lightning |
Gained teams:
Kansas City, Quebec City, Portland, Hamilton
Lost teams:
Phoenix, Columbus
The Benefits:
• Simplicity — It's much easier (especially for casual or new fans) to understand the setup of the league.
• Fairness — While I, myself don't subscribe to the "the teams in the 7-team conferences have are more likely to make the playoffs" argument (listen, you are more likely to qualify for the post-season in an awful 8-team conference than a really competitive 7-team conference), this evening up of the conferences nullifies the argument altogether. (For an excellent analysis on this whole argument, check out Bjorn Mikkelsen's Blog).
• Travel equity — Unlike all the efforts to minimize travel that so many have strived to achieve, we've actually increased travel for most teams. In an effort to create a more balanced travel schedule across the league we've "forced" every team to be in a conference that has a "medium-distance" travel load. The NHL West and NHL East have a heavier north-and-south travel burden… while the NHL North and the NHL South have a heavier east-and-west travel burden. I'm going to stop trying to explain this with words, now and just refer you back up to the map. ?
• Rivalries — The major rivalries preserved in Gary's plan are still here, plus we get a Kansas City/St. Louis one to enjoy now… not to mention the Montreal/Quebec rivalry that will be revived as well. Hamilton drops into the middle of the Golden Crescent to make a nice trifecta. Detroit and Chicago stay together, but join the Leafs to make a conference with three Original Six teams. The remaining three O6 teams (Montreal, Boston and New York) are all in a single conference as well.
Scheduling:
Same set up as last week:
Each team plays all it's non-conference opponents once at home and once on the road: 2 games x 24 teams = 48 games
Each team plays it's conference-mates twice at home and twice on the road: 4 games x 7 teams = 28 games
One home and one away with a single team from each of the other three conferences (rotating each year… completing the loop every eight seasons): 2 games x 3 teams = 6 games
48 games + 28 games + 6 games = 82 games
Playoffs:
• Top four teams in each conference qualify for the playoffs
• Round One: Conference Semifinals — #1 vs #4 and #2 vs #3
• Round Two: Conference Finals — Semifinal winners faceoff
• Round Three: "Frozen Four" type matchup. Conference Champ with the best record chooses which opponent they will face.
• Round Four: Stanley Cup Finals
And there you have it.
(H/T to oilersnation.com for the original map)
Don't forget to share our lil' project with your hockey fan friends. And, as always, thanks for reading. Until next Sunday!
— TF
Make sure to check out the entire NHL Realignment Project ».