NHL Realignment Project – Week 29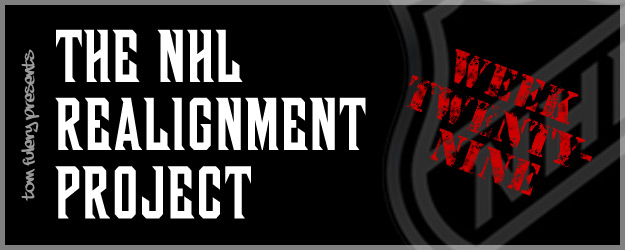 Where do we go from here?
Now that we've had a week to digest the big news of what the NHL will (most likely) look like in 2012, we can begin to ponder the question of where we go from here. I'm gonna do my best Santa Claus impersonation and deliver the gift of "every NHL city will retain their team". So with all the Phoenix, Long Island, Carolina, Columbus, and Florida eyes a-smiling, we are gonna do the thing that the 7-7-8-8 setup that the new conferences demands we do… figure out how to get us to four 8-team conferences. Let's have a look at one way this might go down.
The Map: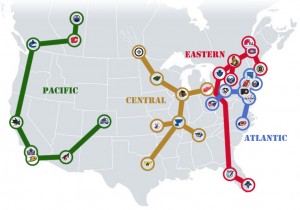 NHL Realignment Map – Week 29
The Breakdown:
Stickin' with Gary's four conferences… All four now have eight teams. Quebec City brings the "Eastern Conference" up to eight teams, joining Boston, Buffalo, the Eastern Canadian teams and the Florida teams. Since Detroit's brass seem to be appeased with the new league breakdown, we're leaving them in the Central with rival Chicago and adding Kansas City. Columbus leaves the Central behind (getting that Conference back down to eight) and joins the Atlantic getting them up to eight as well.
| | | | |
| --- | --- | --- | --- |
| Pacific Conference | Central Conference | Eastern Conference | Atlantic Conference |
| 1. Anaheim Ducks | 1. Chicago Blackhawks | 1. Boston Bruins | 1. Carolina Hurricanes |
| 2. Calgary Flames | 2. Dallas Stars | 2. Buffalo Sabres | 2. Columbus Blue Jackets |
| 3. Colorado Avalanche | 3. Detroit Red Wings | 3. Florida Panthers | 3. New Jersey Devils |
| 4. Edmonton Oilers | 4. Kansas City Scouts | 4. Montreal Canadiens | 4. New York Islanders |
| 5. Los Angeles | 5. Minnesota Wild | 5. Ottawa Senators | 5. New York Rangers |
| 6. Phoenix Coyotes | 6. Nashville Predators | 6. Quebec Nordiques | 6. Pittsburgh Penguins |
| 7. San Jose Sharks | 7. St. Louis Blues | 7. Tampa Bay Lightning | 7. Philadelphia Flyers |
| 8. Vancouver Canucks | 8. Winnipeg Jets | 8. Toronto Maple Leafs | 8. Washington Capitals |
The Benefits:
• Simplicity — It's much easier (especially for casual or new fans) to understand the setup of the league.
• Fairness — While I, myself don't subscribe to the "the teams in the 7-team conferences have are more likely to make the playoffs" argument (listen, you are more likely to qualify for the post-season in an awful 8-team conference than a really competitive 7-team conference), this evening of the conferences nullifies the argument altogether.
• Rivalries — The major rivalries preserved in Gary's plan are still here, plus we get a Kansas City/St. Louis one to enjoy now… not to mention the Montreal/Quebec rivalry that will be revived as well.
Scheduling:
One of the biggest beefs people have with Gary's plan is the scheduling confusion. With this new set up we've got a more manageable scenario:
Each team plays all it's non-conference opponents once at home and once on the road: 2 games x 24 teams = 48 games
Each team plays it's conference-mates twice at home and twice on the road: 4 games x 7 teams = 28 games
This leaves us with a 76-game season. I'm not opposed to things being left right here (I'm sure the NHLPA would okay this). But in an effort to keep things more in line with tradition, the last six games would be dealt with like this:
One home and one away with one team from each of the other three conferences (rotating each year… completing the loop every eight seasons): 2 games x 3 teams = 6 games
48 games + 28 games + 6 games = 82 games
Playoffs:
• Top four teams in each conference qualify for the playoffs
• Round One: Conference Semifinals — #1 vs #4 and #2 vs #3
• Round Two: Conference Finals — Semifinal winners faceoff
• Round Three: "Frozen Four" type matchup. Conference Champ with the best record chooses which opponent they will face.
• Round Four: Stanley Cup Finals
And there you have it.
As an additional note, I think the NHL should (through thoughtful relocation and expansion) do what it can to get to 32 teams. This seems so much better than the 30-team out-of-balance-ness going on right now. Gary's job for the foreseeable future should be to find the right 32 cities and get us there.
(H/T to oilersnation.com for the original map)
Don't forget to share our lil' project with your hockey fan friends. And, as always, thanks for reading. Until next Sunday!
— TF
Make sure to check out the entire NHL Realignment Project ».