NHL Realignment Project – Week 25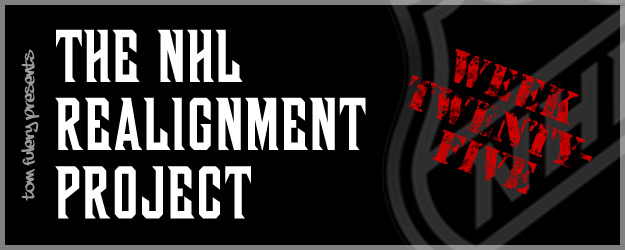 Oh Six (Times Six)!
This week on the NHL Realignment Project we once again fool around with the idea that the Original Six deserve their own division/conference/whatever. Unlike last week where we had to contract six teams to get to an divisble-by-six (and still be an even number) to get this to work out in a manageable way, this week we've gone the other way… expanded to 36 teams (math still works, see?)
So our new 36-team NHL has two conferences, each made up of 3 divisions… Original Six, Gretzky, Dionne, Hull, Lemieux and Bossy. There's a bit of a log-jam up in the top-right of the map… but keeping PIT and PHI together and NYI and NJ together is worth the spaghetti-look that we've created. Extra bonus, this week for Buffalo fans, you are no longer in a division name for a Hull.
Playoffs would be pretty similar to the current setup, except I'd qualify the top two teams in each division and then have two more next-best-records wildcard teams to round out each conferences 8 playoff qualifiers.
It's been a while since I've referenced it, but for those of you out there ready to argue that there is no way the NHL can go to 36 teams, first, I'd say, "this week's scenario is admittedly farcical" and if necessary, I'd then invoke the King of North America Defense.
The Map:
The Breakdown:
EASTERN CONFERENCE:
Original Six Division: Boston, Chicago, Detroit, Montreal, New York, Toronto
Lemieux Division: Carolina, Florida, Philadelphia, Pittsburgh, Tampa Bay, Washington
Bossy Division: Buffalo, Columbus, New Jersey, New York Islanders, Ottawa, Quebec
WESTERN CONFERENCE:
Hull Division: Dallas, Kansas City, Milwaukee, Minnesota, Nashville, St. Louis
Gretzky Division: Calgary, Edmonton, Portland, Seattle, Vancouver, Winnipeg
Dionne Division: Anaheim, Colorado, Las Vegas, Los Angeles, Phoenix, San Jose
Gained teams:
Kansas City, Las Vegas, Milwaukee, Quebec, Portland, Seattle
Lost teams:
none
The Benefits:
• Tradition — The Original Six teams gets the recognition they deserve with their own division. Major rivalries such as PIT/PHI,  LAK/SJ, EDM/CGY to name a few have been maintained in-division.
• Travel — Other than Winnipeg (sorry guys), nobody has an in-division rival more than one time-zone over.
• Rivalries —  Even though Winnipeg is kinda screwed on travel, they do get a whole heapin' mess'o rivals to content with. The Alberta teams and Vancouver are all in-division, through in what will sure turn into an awesome rivalry in Seattle/Portland, and the Gretzky division will be amazing. Cali, Colorado and the two desert cities will be great too. Oh, but wait, there will be a great Missouri rivalry… oh and Dallas/Minnesota have history… jeez, there's also the current Southeast Division, but now with the awesome PIT/PHI rivalry… NYI/NJ will intensify… Quebec and Ottawa will heat up too. All awesome rivalry gold — oh and hey, and we haven't even mentioned the original six!
Too tired to think through scheduling scenarios, but with this many teams, I'm thinking that we probably wouldn't be able to see every team both home and away each season. Perhaps, but like I said to tired to think it through. Other than that… I like this little fantasy. Hope you did too.
Until next Sunday!
— TF