NHL Realignment Project – Week 22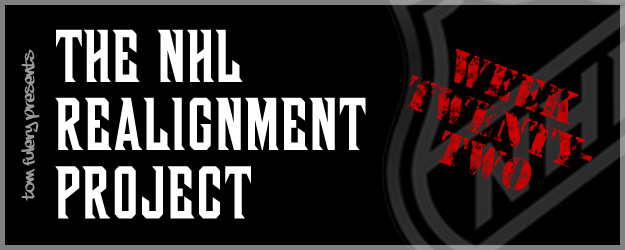 Nationalism
Week twenty-two in the NHL Realignment Project has a "country" flavor to it. The main thing we're doing differently this week is how we arrived at our honorific division names. The NHL is mostly made up of North American players and European, right? So I took the two (present-day) countries from each continent that have provided us our leading scorers… Canada/US and Czech Republic/Slovakia. The divisions are named after each of those nation's leading scorer… Wayne Gretzky, Mike Modano, Jaromir Jagr and Stan Mikita.
In addition to the awesome naming, we've gone with a horizontal formatting for dividing up the league. And contracted the two teams that had the lowest average attendance last year (Islanders and Coyotes) to get us to a more divisible 28 teams.
The Map: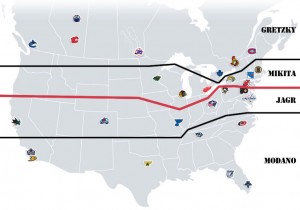 NHL Realignment Map – Week 22
The Breakdown:
Northern Conference
– Gretzky Division: Calgary, Edmonton, Montreal, Ottawa, Toronto, Vancouver, Winnipeg
– Mikita Division: Boston, Buffalo, Chicago, Detroit, Minnesota, New Jersey, New York
Southern Conference
– Jagr Division: Colorado, Columbus, Philadelphia, Pittsburgh, San Jose, St. Louis, Washington
– Modano Division: Anaheim, Carolina, Dallas, Florida, Los Angeles, Nashville, Tampa Bay
Gained teams:
None
Lost teams:
New York Islanders, Phoenix Coyotes
The Benefits:
• Respect — Hockey is a global game… and stars from various countries have made the game grow at home and abroad. With these division names, we do a major hat tip to that.
• Division Pride — Having a division that is "Canada-only", one that is "all-South", one that has four of the Original Six, and one that has the leagues two biggest stars (not to mention the most cup-hungry fans (San Jose)) will give each division its own unique brand and identity. The rivalries within each, and the pride across each would be an interesting dynamic to watch.
• Rivalries — I did my best to keep some great rivalries intact. PIT/PHI, NYR/BOS, TOR/MTL, CGY/EDM, ANA/LAK to name a few. I'd build a non-division schedule where everyone played everyone else at least once at home and once away… that way other big rivalries can still live on as well.
• Travel — 3 of the 4 divisions have coast-to-coast representation. So everyone is gonna have to travel a bunch. Only the Mikita Division has just two time-zones represented… but there is a really good chance that in a subsequent (*COUGH* NEXTSUNDAY *COUGH*) NHLRP map, an expansion will remedy this.
• Modano Retirement — Since Modo recently retired, I felt it appropriate to hit him up with a shoutout… thanks for making hockey work in Texas… thanks for being a class act… thanks for inspiring us, Mike.
(H/T to oilersnation.com for the original map)
See you next week (gonna try to post every Sunday moving forward, so put it on your calendar)!
— TF
Make sure to check out the entire NHL Realignment Project ».